In the fast-paced world of modern computing, where multitasking and immersive experiences have become the norm, ultrawide monitors have emerged as game-changers. These expansive displays offer an extended canvas that opens up a world of possibilities for professionals, gamers, and creative enthusiasts. However, to truly harness the power of these wide screens and create a comfortable and productive workspace, a reliable and versatile monitor mount is essential.
Enter the realm of ultrawide monitor mounts – the unsung heroes of ergonomic design and workspace optimization. These mounts go beyond mere functionality, transforming your workstation into an organized, clutter-free haven of productivity. In this exploration, we embark on a journey to uncover the best ultrawide monitor mounts available, each designed to provide a blend of form, function, and adaptability.
Whether you're a designer seeking a canvas for your creative endeavors, a trader tracking multiple markets, a content creator piecing together a visual narrative, or a gamer diving into expansive virtual worlds, the right monitor mount can be the bridge between potential and performance. Join us as we delve into the world of cutting-edge engineering, innovative design, and user-centric features that define the top ultrawide monitor mounts on the market. Your quest for the ultimate display setup begins here.
Who is this for?
The mounts in this manual are intended for users of ultrawide monitors. The gadgets are for larger displays and have unique features that let them support considerably heavier objects. They are for users who demand greater stability and security. The mounts below are probably too large for your computer or display, and you can get away with something smaller if you have a smaller computer or monitor.
Top picks for the Ultrawide Monitor Mounts in 2023
Vivo Premium
The Vivo Premium is a reliable arm for ultrawide monitor users who want to reduce clutter because it is fully adjustable and simple to use.
This choice helps you manage your wires, just like so many other excellent mounts do, and thanks to the arm design, it won't take up a lot of room around your desk or table. With a +/-45-degree tilt, a 180-degree swivel, and 13 inches of height adjustment, this mount is also one of the most adaptable ones available.
The Vivo Premium's wide viewing angles are another reason to choose it. You can view your screen pretty much as you like because it has so many adjusting possibilities.
Even with a larger monitor, the adaptability is still fairly good, even though it may not be the easiest to move around. To guarantee top quality for many years to come, this also makes use of a safe grommet mount and is built of lightweight yet durable aluminum.
Pros
Incredibly adjustable
It holds up to 33 pounds
Affordable
C-clamp and grommet base
Ergonomic design
Multiple mounting options
3-year manufacturer warranty
Ergotron HX Desk Monitor Arm
The Ergotron HX Desk Monitor Arm is one of the most dependable mounts available when it comes to strength. Thanks to the robust design and high-quality materials, this dependable model is incredibly heavy-duty.
Additionally, the practical tool can raise to 12 inches and extend out 25 inches. You now have a lot of flexibility and can use your ultrawide monitor however you like.
The Ergotron HX offers excellent cable management and can pan 360 degrees, which increases the range of potential enhancements it can make to your user experience.
In case the sturdy construction and 42-pound weight capacity aren't enough, this is also covered by a 10-year warranty. Thanks to the mounts and hardware that are provided, many users will also appreciate how simple it is to install and set up.
Pros
Extremely durable
Heavy-duty, capable of holding 42 pounds
Pans 360 degrees
Extends and lifts
Sturdy
180-degree rotation
Includes a range of useful accessories
Great cable management
10-year warranty
Cons
Can drop by a bit after the setup
Stand a bit large
Mount-It! Ultrawide Mount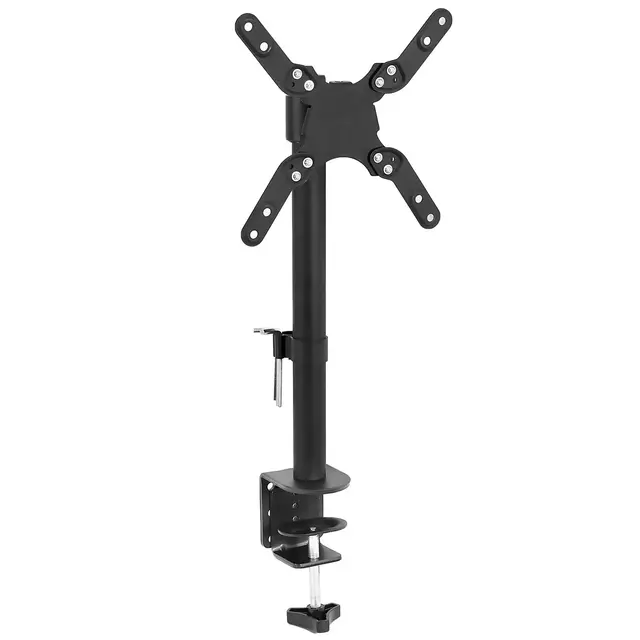 In the Mount-It! The Ultrawide Mount is a sturdy mount designed for ultrawide monitors, as the name would imply. This choice is built for a larger screen, unlike many others that can simply accommodate one. Because of this, it can handle a sizable amount of weight and support nearly all monitors up to 42 inches. The mounting pole is another wonderful addition, allowing you to set up the perfect viewing environment to prevent back pain when working for extended periods.
You have a lot of adjustment possibilities with this model, much like with other high-end ultrawide monitor mounts. You never run out of alternatives thanks to the entire rotation and the 30-degree tilt (up or down). Both lessen glare as well. To ensure that it holds your computer exactly where you want it, this also has a steel construction.
Pros
Easy to adjust
Extremely affordable
Tilt reduces glare
Simple setup
Well-built
Extends, tilts, and retracts
The slick design increases desk space
Integrated cable management
Cons
Won't work for extremely wide (49-inch) monitors
What factors to consider when buying an Ultrawide Monitor Mount?
Strength
Make sure the ultrawide mount you choose can support the weight of your monitor. Before making your final purchase, always verify how much a gadget can carry and compare it to the weight of your monitor. The ideal weight is a few pounds over since it provides you some wiggle room and makes the overall system much more stable.
Adjustability
The adaptability of a monitor mount is another factor to consider. Although you may always choose a more conventional stationary option, getting a swivel mount or arm that you can easily adjust as you see fit is a far more fun (and useful) experience. Here, ergonomic designs are essential, as are easily tiltable arms or mounts. A potential change in height should also be considered.
Easy to Use
Even though it's not as crucial as the previous two elements, you should strive to get a monitor mount that is simple to set up. Some mounts are easy to assemble, while others will require quite a bit of effort. Additionally, certain mounts could not adhere to your wall, monitor, or desk readily. The one you choose should work with your workspace, so make sure.
FAQs
Is it worth getting an Ultrawide monitor?
If you primarily want to watch movies, an ultrawide monitor is arguably worth paying more for. But if you're a more casual user, and just want a new screen, the standard widescreen may be fine.
What factors to consider when choosing a ultrawide monitor mount?
There are many factors considered while purchasing a monitor mount including Monitor compatibility, weight capacity, adjustability, installation type, and cable management.
Why do I need an Ultrawide monitor mount?
An ultrawide monitor mount offers several benefits, including ergonomic adjustments that allow you to position your monitor at the optimal height, tilt, and angle for improved comfort and reduced strain. It also saves desk space, promotes better organization through cable management, and enables multitasking by providing a flexible setup that can accommodate multiple monitors.
Can I adjust the height and angle of my monitor with these ultrawide mounts?
Yes, most ultrawide monitor mounts offer a range of adjustments, including height, tilt, swivel, and rotation. These ergonomic features allow you to customize your monitor's position to your comfort and reduce strain on your neck and eyes during extended use.
Can I use these monitor mounts with curved ultrawide monitors?
Yes, several mounts are compatible with curved ultrawide monitors. Manufacturers often provide details about curved monitor compatibility in their product specifications. It's essential to choose a mount that can support both the size and curvature of your monitor.
Are there any additional accessories I might need for mounting?
While many mounts come with the necessary hardware for installation, you might want to have a screwdriver, wrench, or other basic tools on hand. Additionally, you can explore accessories like cable clips, monitor adapters, or laptop trays, depending on your specific needs and setup.
Are there ultrawide mounts that offer easy monitor rotation for portrait mode?
Yes, many ultrawide monitor mounts offer the ability to rotate your monitor into portrait mode. This feature can be especially useful for tasks like coding, reading lengthy documents, or working with vertically-oriented content. Check the mount's specifications to ensure it supports portrait mode rotation and whether it aligns with your intended usage.
Who can use these Ultrawide monitor mounts?
For those who wish to maintain a tidy desk, the Vivo Premium is a straightforward, simple-to-install mount. Both the cable management and adjustment are excellent.
The Ergotron HX Desk Monitor Arm, which is strong and effective, is the perfect mount for users of large ultrawide displays. It is ideal for heavy computers because it is one of the strongest alternatives available.
In the Mount-It! For those seeking an ergonomic setting, Ultrawide Mount is an option. This has a 30-degree tilt and is not only capable of supporting ultrawide monitors, but it is also adjustable.
Final Words
Although they considerably improve your computing experience, ultrawide monitors aren't always simple to integrate into your setup. A sturdy mount is often required.
There are several varieties, from fixed to fully articulating. They can provide various ranges of motion, as their names imply, typically at a greater or decreased expense.
We'd advise you to consider the purpose and function of your monitor arm. A fixed arm is fine if you merely need something to lift your monitor to a height that encourages proper posture. Choose the full articulating arm if you intend to adjust the monitor frequently while working both standing and sitting.
Check out the aforementioned selections rather than browsing through many alternatives without being aware of their specifications. All of them are capable of handling larger screens and are ideal for any ultrawide display.