TripMode is a bandwidth-usage management tool that provides easy monitoring and control of data consumption. This app, which works well with Macs, comes at an affordable price point given all the features it offers. Read TripMode review to learn more about its usage.
It's common for Mac users to be unaware of how much they are consuming. This could be because internet connections on their devices tend to be fast and widespread.
However, TripMode can help you monitor your usage as soon as possible. So, there won't be any surprises when you receive your next bill or run out of capacity.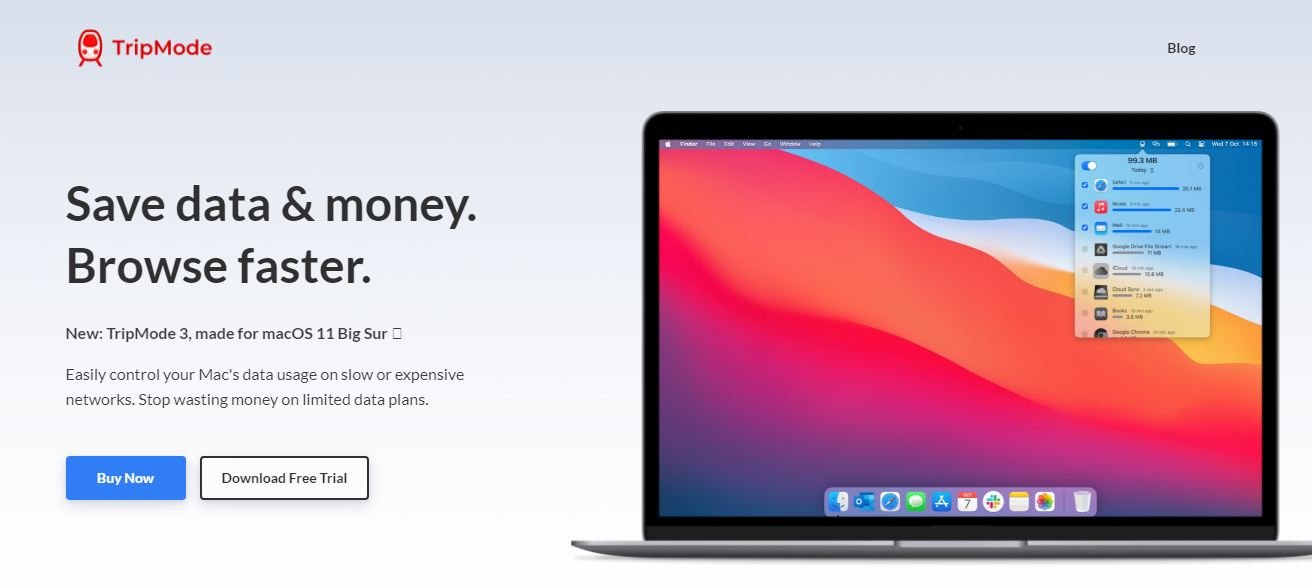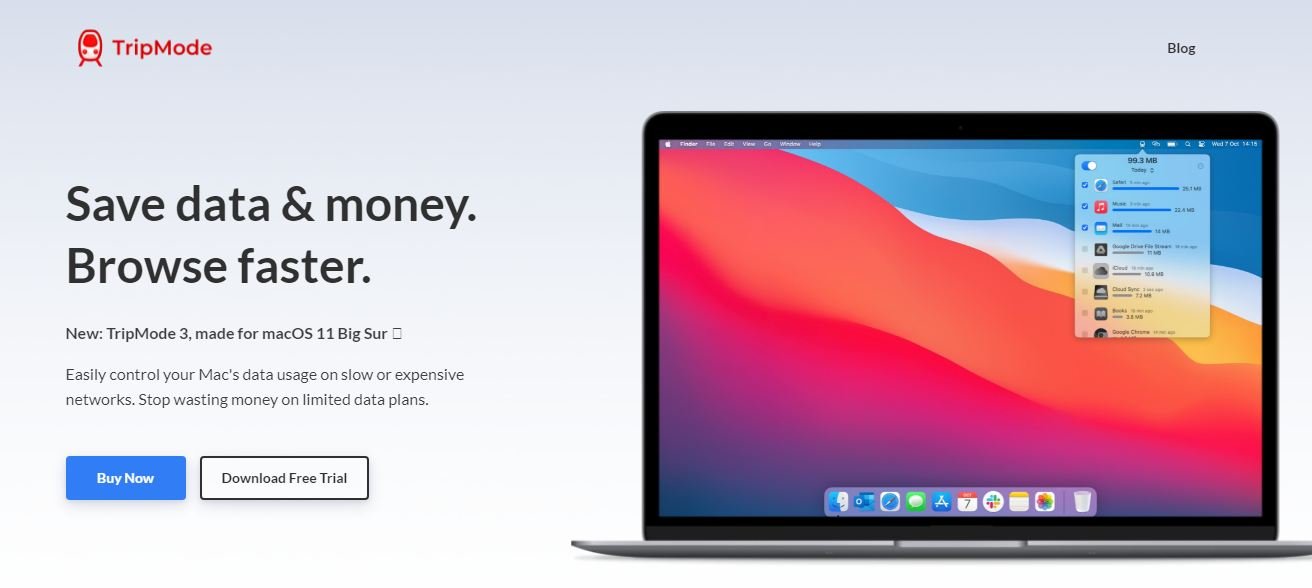 TripMode for Mac is a great app that tracks data usage by application and lets you block or allow specific apps. Also, it sets limits on the overall bytes transferred to and from the internet.
It's clear why TripMode can be useful. Most of us don't like running out of mobile data every month. We also hate it when our favorite browser eats up all available bandwidth while watching Netflix before bedtime.
Only few applications track their own data use (and some Apple ones even actively work against this). So, there isn't any other way than digging through Activity Monitor after each session with an unruly app in order to fix things manually.
There are a number of apps in the background that can "sync," or transfer data. For example, Dropbox and iCloud Photos will sync when you're on a slow network, but this is bad for your battery life.
It's because it takes up more bandwidth than necessary. TripMode allows users to disable these greedy apps until they get back onto WiFi. It ensures your device doesn't run out of juice while traveling (or trying to accomplish other tasks).
TripMode Review: Pros and Cons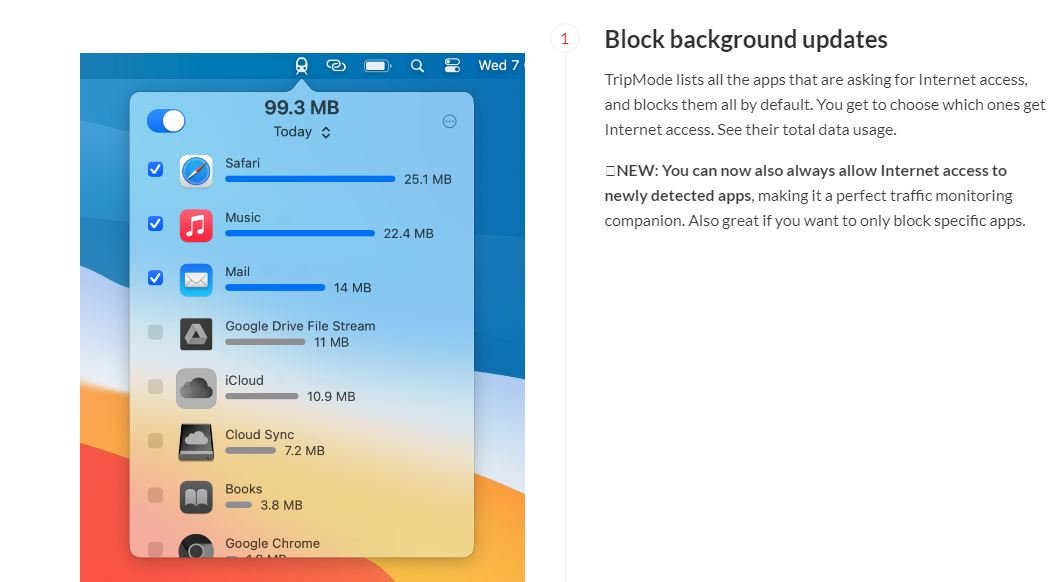 Pro
TripMode doesn't just block data for specific apps, it blocks all data transfer on the phone or tablet. You can then selectively allow certain apps to use cellular data if you have enough storage space on your device. Thus, the apps update themselves in the background when you're not using your phone.

Network-based automated profile switching
Cons
No selective allowances for applications to use cellular data without blocking all data transfer.

Missing advanced functionality (such as whitelists, or network-based switching).

Price is more baroque than the app's remarkable simplicity, and requires a 5 by 11 cell grid on the company's site to explain it all.

Unable to check the settings for individual apps.

Requires restarting Safari after disabling mobile data in TripMode menu for each website visited afterwards. This can be fixed by adding websites to the Whitelist section of TripModes preferences menu.

TripMode only works with Wi-Fi connections. You can still use your phone's mobile connection if you toggle airplane mode.
Control your apps' data cravings
TripMode reveals how your apps access the network when they're not constrained. A simple monitoring mode without any filtering is available by selecting TripMode's icon in the menu bar and Live Monitor from a popup menu at the window's top.
That may be where to start, as it shows you what your machine craves data for communicating with others through sips or drafts all day long.
TripMode filters out distractions to ensure you're keeping your data usage in check. You can choose between three different modes including "no cap," which will allow all apps through without any limit on the amount of bandwidth they consume. Its perfect for remote workers who are looking to save some money!
As apps and services attempt to access the internet, a grayed-out list of items appears with unchecked boxes. You can check off which programs you want to have permission for data transfer over the local network. Data is ignored by default unless it's allowed on an individual basis .
Hover over and click a right-pointing arrow at the far right of each app or service to see more technical details, such as which domains it communicates with. The information might be overkill for most people, but is useful when troubleshooting heavy usage.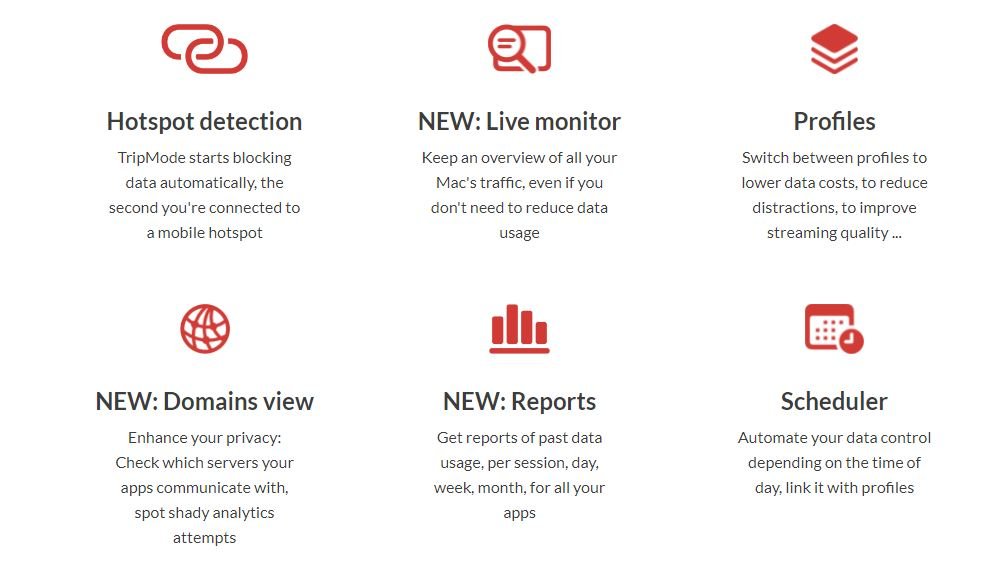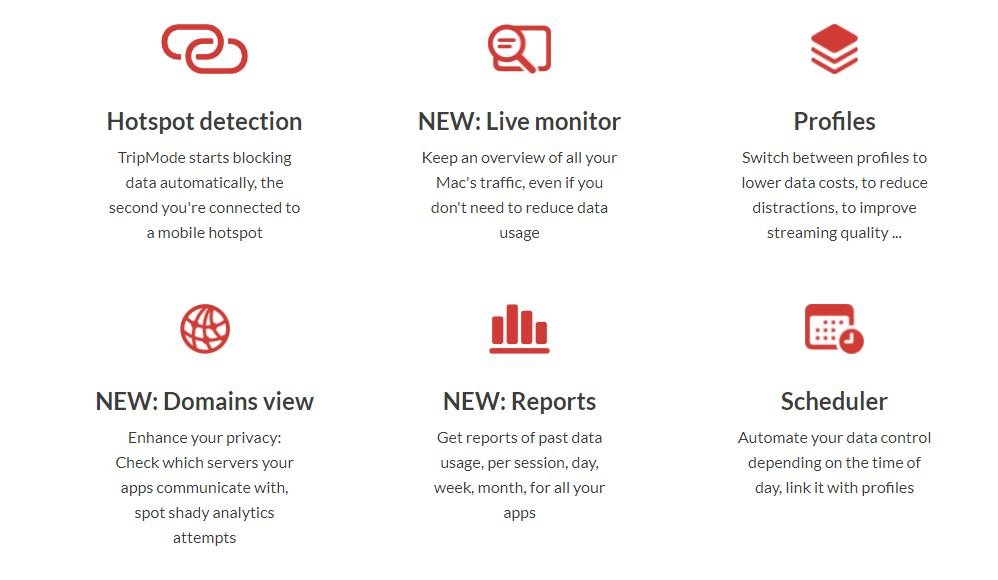 Profiles are the most powerful part of TripMode. They automatically create profiles for each Wi-Fi network you join and ethernet, USB tethering, etc.
If it detects a potentially expensive cellular connection (Tripwire does this), then known browsers like Safari or email apps get approved by default.
However, if you want to prevent that from happening check out Settings > Approved Applications .
There is nothing creative about this input/output pairing as they both repeat verbatim what was in the original text without any significant changes.
The TripMode app has a feature to control how profiles are exchanged. You can choose No, which uses one default profile for everyone automatically where it switches based on network interface or name; and Manually which adds an additional menu option in the monitoring/control list will be added for selection.
Tripped up on per-app controls

One of the biggest pluses for TripMode is that it allows you to control your overall data usage, but there are a few actions not currently offered by the app.
For example, since Apple limits what apps can do with individual cellular or WiFi connections on iOS devices, this feature isn't possible unless they change how their system works.
However, many users have requested being able to cap their data usage per app. So, the company says they might consider implementing this in future updates as well!
TripMode does not throttle an app or the overall connection, which might be a better approach. Rather, TripMode uses per-app throughput limits and for the Mac as a whole.
So, if your Mac has access to 100 Mbps internet connection, it will use all of that based on apps' demands with moderation by other devices on the same network.
The main TripMode window is small and can't be resized. The sorting options available from the Settings menu are limited to only A-Z, last activity (most recent first), data usage (highest first) or "State then usage" which sorts apps by permission before their internet access use.
More options would help including a search field for an easier way of finding specific applications on your phone. Also, reverse order for each sort choice like most currently does instead of least recently used.
TripMode does gather a lot of data, but it lacks the reporting and statistics features. It would be helpful to have some deeper exploration into patterns or overall usage by apps, time of day, etc.
This could give us insight on troubleshooting spikes in consumption or any problems that may arise from using TripMode's services.
TripMode Review: Compatibility and pricing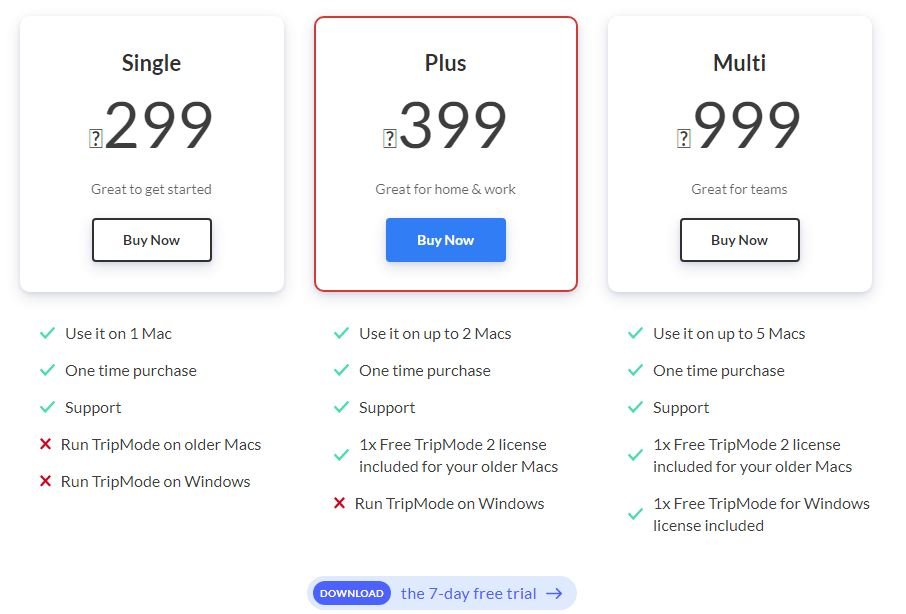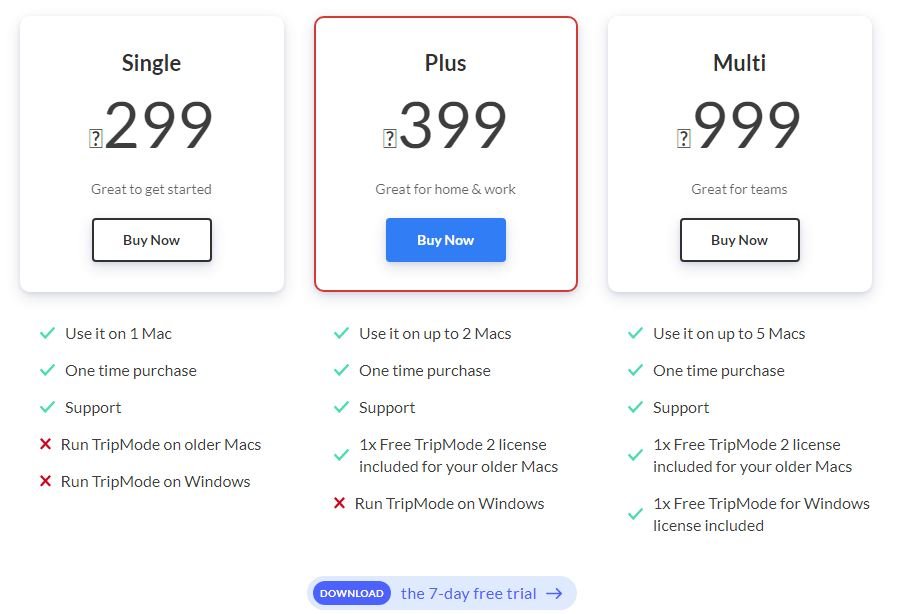 Pricing is more baroque than the app's remarkable simplicity, and requires a 5 by 11 cell grid on the company's site to explain it all.
Web browsers
TripMode is $7.99 in the Mac App Store and can be used free for 3 days before purchase. This is not the only way to get it. You can also download a 15-day trial from Mavericks. Also, Windows users may use the app's installer for 15 days.
Operating system and version
TripMode will work on OS X 10.8 Mountain Lion and later, not just OS X Mavericks as implied by the company's website. It will also run on Windows XP or higher. But it doesn't mention anything about Windows 8.1 compatibility nor of Windows Phone support.
Apps to control which apps can access the internet at all times
Not really, though there are a few similar apps out there. The closest is Onavo Extend, an iOS app that deletes your data plan without affecting other activities on your phone or tablet.
And then iOS users have a couple more options:
iOS has built-in Data Saver mode for Safari (though it hasn't been updated since 2013)

and content blocking extensions for Safari , Chrome, or any other browser.
Forcing certain apps to run only over Wi-Fi Not really. You can make Google Maps or Waze use your device's Wi-Fi connection if you want. But the same result can be achieved by disabling mobile data entirely in those apps' settings panels .
TripMode is useful for workarounds when an app doesn't offer a way to do what you want it to do with regards to background activity.
TripMode has internet access whitelist. It does not appear that TripMode offers this feature at all. While it forbids certain apps from using cellular data at all, in its interface gives no option to allow specific apps.
Also Read: Stellar Phoenix Review: Mac Data Recovery Software
FAQ's on TripMode 3 Review: The Best Mac Data Saving Tool
What is TripMode filter?
Left: TripMode 3 provides live monitoring of per-app internet data usage, with the ability to block individual apps and cap and overall session. Right: macOS Big Sur requires you grant permission to allow TripMode to filter your traffic—in this case, to measure it. TripMode.
How do I use TripMode on Mac?
How TripMode works. TripMode lives in your Mac's menubar, where it appears as a friendly little train icon. Click it, and a drop-down menu shows all the apps running on your Mac, with a checkbox next to each one. Check an app and it's allowed to connect to the Internet.
Conclusion
TripMode has carefully defined their problem focus for years, and version 3 continues down the same track. Even though we haven't taken a lot of trips in the last year.
With macOS unable to control its appetite, many of us find ourselves in circumstances where consumption should be monitored and restricted. So this app neatly fits that bill.
I hope the TripMode review was helpful in explaining how you can control mac's data consumption.