Now, why would one desire a password management app? The solution is clear – there is an issue with trying to secure everything with a password. Remembering the various ones is challenging. To get around this, individuals opt for really easy passwords, or simply repeat the same one for every login ever.
But using "abc1234" for a password, or repeating the same one is considered a significant violation of cyber security in today's environment. This is where password management applications for Android come into play. You don't have to remember or note that down.
Have a look at my handpicked list of the top password managers for Android in 2022.
Best Password Manager Apps for Android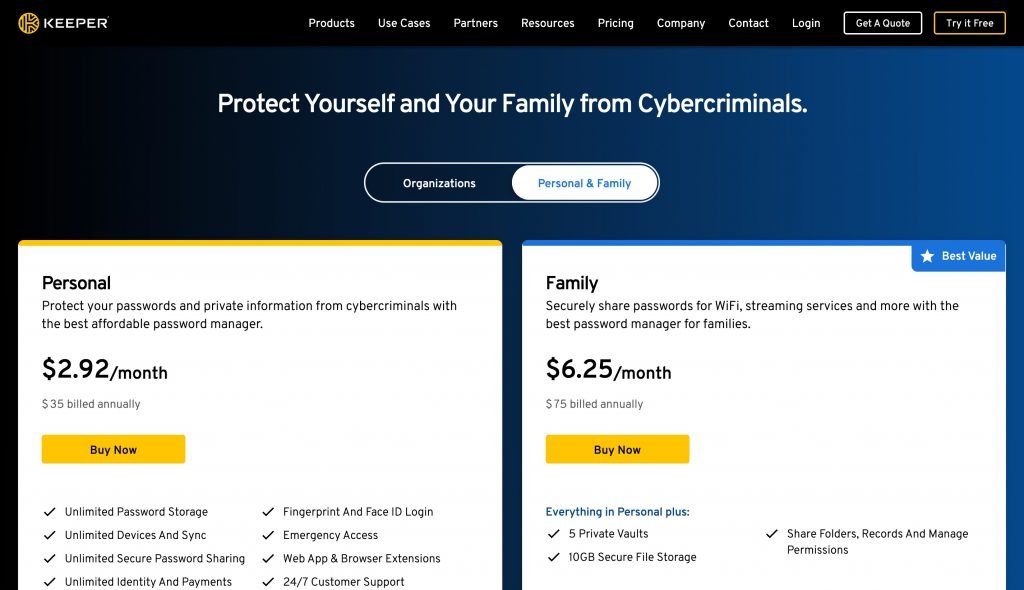 Pricing – USD 2.91 to USD 8.62 per month approximately
Keeper is one of the most established password management applications on the list. However, its regular updates help keep it current. It includes Android's natural auto-fill features, a password generator, and a vault for things like files, images, and movies. Additionally, the PC version is above average.
It is a good password manager with advanced features. However, it is one of the costliest password management applications on the list. There is both a free version and a trial for the paid version if you want to test it out.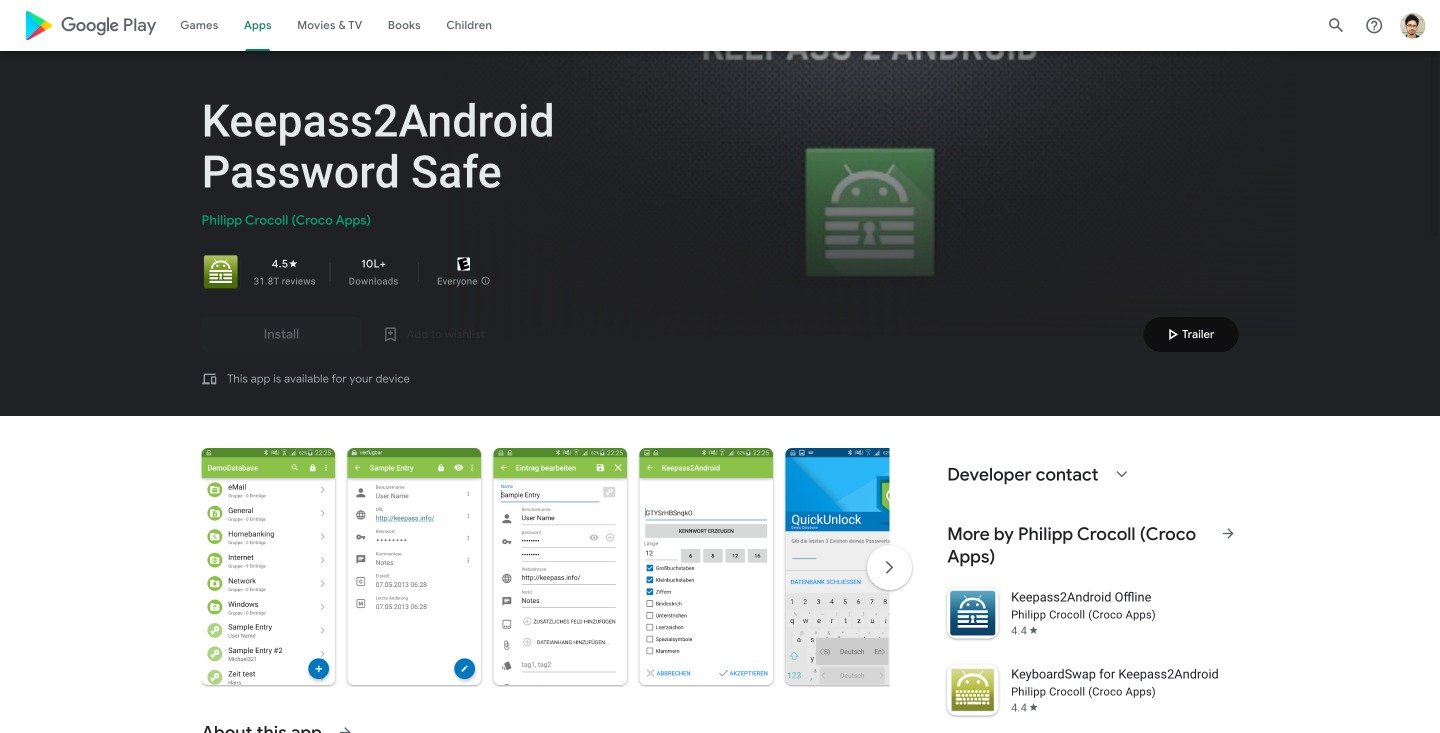 Pricing – Free
Keepass2Android is one of the simpler password management applications for Android. You'll be able to back up passwords and other information. However, it lacks many of the more sophisticated capabilities of its rivals. The most notable aspect of the application is that it is fully free and open source. It is compatible with Keepassdroid, another outstanding free, open-source password manager since it is built on its code. This is an additional fantastic free password manager for anyone on a budget.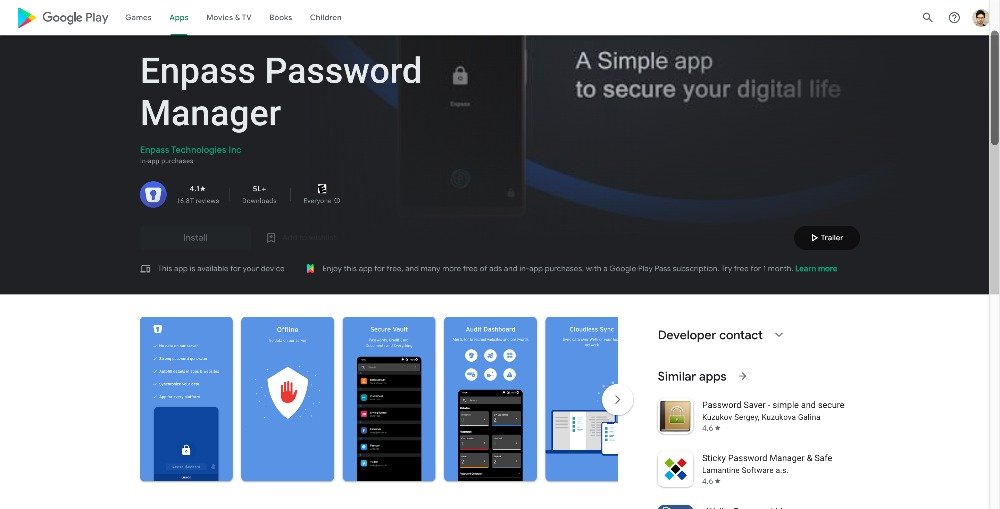 Pricing – USD 1.99 to USD 2.99 per month approximately
Enpass is an effective password manager. It covers the fundamentals and even has desktop versions for Mac, PC, and Linux. In addition, there are no subscription costs, which is a plus. In addition, the application supports data backup and restoration, 256-bit AES encryption, cross-platform synchronization, and migration from other password managers.
If you use Google Chrome, you may also make it auto-fill your passwords in that browser. It is free to download and use, and a one-time USD 9.99 purchase unlocks all features. This application is also free to use with Google Play Pass.
Pricing – USD 0 per month to USD 5.99 per month approximately
Dashlane is a widely used password management application. It contains a reasonable amount of features, strong encryption, and a reasonable number of free features. The free version offers auto-fill, security warnings, storage for up to 50 passwords, and single-device compatibility. As long as they don't want it on their PC as well as their mobile device, the free password manager version will be enough for the vast majority of users.
Pricing – USD 0 per to USD 5 per month approximately
Bitwarden is a very new password management program that is surprisingly effective. The creators seem to take password managers seriously. The application is equipped with AES-256 bit encryption, salted hashing, and PBKDF2-SHA-256 (a technology that helps prevent brute force attacks). Additionally, the application is entirely free and open-source, and you may run your password server if you so want. Even the Android Autofill API is supported.
This is arguably the finest password management application you have ever heard about. The application is also the finest free password manager available. It is without a doubt one of the greatest free password management applications.
aWallet is one of the oldest password management applications available. If necessary, it keeps passwords, financial information, credit card information, and custom data. In addition, there is a search function, personalized icons, and an auto-lock option. There is also a password generator so you don't have to come up with one yourself, although this is a paid function. It incorporates AES and Blowfish encryption and seems to be comprehensive in every way. The software may be downloaded for free, with the pro version available as an in-app purchase.
Pricing – Free
Pricing – USD 2.99 to USD 4.99 per month approximately
One of the most competitive password managers is 1Password. It includes several fundamental functions, including password management (obviously), password generating, cross-platform compatibility with various operating systems, and more. The application also has password unlock and more organization and security features. 1Password offers a 30-day free trial for installation and demonstration. After that, you must subscribe to one of their plans.
Pricing – Free
Smart Lock by Google is a surprisingly effective password organizer. It is natively compatible with Android, Chrome, and Chrome OS. Essentially, when you enter into a website, Google asks whether it should remember your password. The next time you access that app or website, Google populates the information automatically. It supports login credentials, payment card information, and other data. It is also completely free. To access the passwords saved on your Google account, click the icon above. Similar capabilities exist in other browsers, such as Firefox, but Google Smart Lock is the only option that works throughout the Android operating system.
9. Password Safe
Pricing – EUR 5 to EUR 99 per month
Password Safe and Manager is an excellent middle-of-the-road solution for password managers. This one has zero connections to the Internet and 256-bit encryption, so you should feel reasonably secure using it. In addition, it boasts a Material Design that looks and functions marvelously. You can save your passwords, organize them for simple navigation, and create new passwords on the fly. Additionally, it has automatic backups. If you pay USD 3.99 for the pro edition, you'll have access to many other features. It is not the most powerful, but it is good and free if you have Google Play Pass.
Pricing – USD 0 to USD 6 per month approximately
LastPass is an industry-standard when it comes to password management software. It boasts a plethora of capabilities, including the ability to automatically insert passwords into applications, websites, and even forms. It is also flamboyant, which is a characteristic that many people like nowadays.
LastPass also provides safe storage for photographs and audio notes. There is also fingerprint scanner support, a password generator, a password auditor that indicates whether or not your password is weak, and the option to offer emergency access to a buddy.
How to Choose the Best Password Manager for Android?
A password management app's position at the top of a list is irrelevant if it does not meet your unique requirements. Therefore, while selecting a password manager for your Android smartphone, you should ensure that it has all you need. You should first determine whether the password manager offers an Android app.
The number of simultaneous connections permitted is also an important element to consider, particularly if you use many devices every day. Check whether your preferred Android password manager includes a family package if you need one for the whole family.
Next, you should not miss any extra features, such as limitless password storage or an integrated VPN. And if you already have a VPN or another function, it makes little sense to pay for a second one.
User-friendliness is the final but certainly not the least crucial factor to consider. Examine several screenshots of the password manager's UI to determine whether you will be able to use it with ease.
Why Do I Need a Password Manager App for Android?
In this digital era, we use our mobile devices to access hundreds of accounts, the majority of which need passwords. However, memorizing them all is impossible. Here, a password manager application comes to the rescue. Here are the reasons why you need a password manager on your Android device:
1. Faster, safer password access:
If you wish to utilize a large number of safe passwords without a password manager, you will need to use either an online document or a physical book to store them. It is a dangerous habit because obtaining a particular password from a list might be cumbersome. Password managers provide fast access to all uploaded passwords, saving you time and protecting your privacy.
2. Better password sharing:
On occasion, you may want to share your login credentials with someone else. But doing so in plain text on messaging applications is a terrible idea since passwords change and anybody with access to your messaging account might see them. A password manager allows you to exchange and update passwords with many users without compromising security.
3. Stronger passwords:
Are you using the same three passwords for each of your online accounts? This is a poor security technique that makes you susceptible to hackers. However, it is difficult to distinguish between C1x%6s2lOs and C1x@CfD12DlLOs. With a password manager, you can generate complex, unique passwords that are securely kept in one location.
Paid Vs. Built-in Password Manager Apps
People typically choose between premium plans and built-in password managers, such as the one your web browser provides when searching for a password manager.
A built-in password manager is a free and straightforward option. However, it is limited to a single browser, and let's be honest: our experiences of internet surfing are rarely so confined. Additionally, anyone with access to your browser can access your data with relative ease. Their overall security measures pale in comparison to those of premium options.
Paid password managers have superior security and zero-knowledge technology compared to their built-in counterparts. Biometrics and two-factor authentication provide additional security. In addition, premium features synchronize your password across all devices: a single platform supports mobile and desktop devices, as well as the majority of popular web browsers via a browser extension.
With their simple free plans or 14- or 30-day free trial options, you can test out several premium password managers for free. They will not provide a complete premium experience, but you will be able to see why they are superior to built-in options.
Conclusion
As I'm sure I've made clear, protecting your passwords and other sensitive information on your Android smartphone should be one of your top considerations in this wide cyberspace.
Using password manager software on Android is the most effective approach to managing your various passwords. The greatest applications include those with military-grade encryption, a user-friendly UI, superior customer service, additional functionality, and low pricing.
In this post, I provided a list of the Android password keeper applications that I consider to be the finest. I feel Keeper is the finest of them. Now, the decision rests solely with you.