Recording audio is a fundamental feature found in every smartphone, serving as a valuable tool for capturing important and potentially useful content. Whether it's a recorded music file or any other audio recording, the desire for optimal sound quality is universal.
The ability to enhance your audio on the fly is essential. Instead of relying on desktop editing software, why not explore the finest audio editing apps for your iPhone?
We've simplified the process for you by curating a list of the top most exceptional audio editing apps available for your iPhone device. These apps are not just recorders; they offer professional-grade audio editing capabilities. Read on to discover these remarkable tools.
What is Voice Editing?
Voice editing, also known as audio editing, is the process of modifying and enhancing audio recordings, specifically those of spoken or sung words, to achieve a desired sound or quality. It involves a variety of techniques and tools to manipulate and improve audio recordings. Voice editing can be applied in various contexts, including but not limited to:
Podcasting:
Podcasters often use voice editing to remove background noise, correct errors, adjust audio levels and enhance the overall quality of their spoken content.
Music Production:
In music production, voice editing can involve pitch correction, equalization, compression, and various effects to improve the quality of vocal recordings.
Voiceovers:
Voice artists and voiceover professionals use voice editing to clean up recordings, remove mistakes, and ensure a polished final product for commercials, video narrations, and other voiceover work.
Content Creation:
Content creators on platforms like YouTube and social media may use voice editing to enhance the clarity and professionalism of their videos and spoken content.
List of Best Voice Editing Apps in 2023
Voice PRO
Voice PRO is a premium voice recording and editing application available for Android devices, not iPhones. This app is designed for professional-level audio recording and editing capabilities on mobile devices.
This app is very common among people. It allows you to save your voice or music in 50+ formats with up to 320kb per second. You can easily add, edit, cut, adjust, eliminate disturbances, and noises, and insert background. This app allows sharing to Facebook, Twitter, and Voice Pro Cloud.
Price
The price of Voice PRO is ₹26,999 in India.
Features
Record in more than 100 formats
Insert audio files as a background track
Supports background activity.
Supports both internal and external players.
Mix or merge any record in all formats.
Add notes and tags to your files
Convert to many formats (mp3, wav, FLAC, Ogg)
Pros
User-friendly interface
A refund within 2 hours of purchase if you don't like the app.
Cons
The free version is not available
GarageBand
Contrary to Hokusai Audio Editor, GarageBand is a real deal to those who want something more than just editing audio on an iPhone. It happens to be more than just being a digital musical instrument for budding artists and garage musicians; it plays the role of being a digital instructor which allows you to learn a new instrument from scratch.
Moreover, it lets you create a music file by aggregating multiple instruments and audio. GarageBand has dubstep, RnB, hip hop, and more live loops. Instruments like drums, Keyboard, guitar, etc.
Price
Features
Variety of Touch instruments that sound like real ones
Sound Library that features ever-expanding soundtracks and instruments.
Updates when new soundtracks are released
Easily accessible on multiple Apple devices
Pros
Easy to use
You can self-learn how to navigate through the tools
Cons
Pretty basic effects
Lack of presets to edit audio faster
Hokusai Audio Editor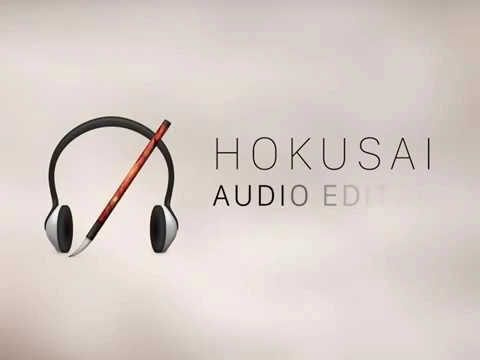 If you need a simple audio editing app for your iPhone, Hokusai Audio Editor is the way to go. When you record audio on your iPhone, you often end up with unwanted background noise and awkward pauses in your recordings. Hokusai Audio Editor makes it easy to fix these issues.
Once you import your audio file into the app, it displays a visual representation of your audio as a waveform. This waveform allows you to quickly identify and remove any unwanted pauses or sections from your recording. Plus, the app comes with built-in tools for getting rid of background noise.
Price
The Pro Pack for Hokusai Audio Editor costs ₹999 (US$12.99).
Features
Has a feature to merge files.
Ability to add effects such as silence, and white noise.
Pros
Free and easy to use
Intuitive interface
Wide range of features, even in the free version
Supports a variety of audio formats
Regularly updated with new features and bug fixes
Cons
The app can be a bit slow on older devices
The documentation is not very comprehensive
Lexis Audio Editor
Lexis Audio Editor is an all-in-one audio editing app that lets you record audio too. You can easily tweak multiple audios without using expensive software on your PC.
The audio editor allows you to save the edited file in the desired format. It supports all standard formats. One can cut, insert, change the tempo of a selected portion, or even add an echo to a specific part.
Price
The Pro version of Lexis Audio Editor costs ₹999 (US$12.99).
Features
Fade in, fade out
Background noise reduction
Compressor
Export and import from iCloud
Pros
Supports multiple formats
Import audio from iTunes
Edjing Mix
Edjing Mix is a popular and feature-rich DJ app for mobile devices, including both Android and iOS platforms. It allows users to create and mix music tracks, essentially turning their smartphones or tablets into virtual DJ setups.
This app comes with more than 20 DJ FX features that make editing fun. It transforms your phone into a virtual DJ. This app supports Google Drive, Dropbox, and iCloud access. You can even sort your files on the basis of BPM, time, or even in alphabetical order.
Price
Features
No ads
Access to all effects
Ability to export mixes in WAV format
Cloud storage for your mixes
Pros
16 free samples
Integrated with SoundCloud.
Continuous sync between tracks
Cons
Most features are not available for free
Lacks the "save to recording" button.
Music Maker JAM
Music Maker JAM is one of the favored and highly sorted apps amongst free audio editing apps for Android and iOS. To be precise, Music Maker JAM vindicates amateurs and aspiring musicians from expensive and long hours of studio recording and at last mediocre results. This is why they shifted to this audio editor portable app which offers a variety of amazing mix packs across all music genres like pop, hip hop, and rock.
Price
Features
Directly share tracks to SoundCloud and social media.
Remix tracks by shaking the device.
Pros
300+ Mix packs to choose from
No technical knowledge required
Cons
Sometimes it prompts regular sign-in.
Auria Pro
Auria Pro is a professional-grade digital audio workstation (DAW) designed specifically for iOS devices, such as the iPad. It is known for its advanced audio recording, editing, and mixing capabilities, making it a powerful tool for musicians, audio engineers, and producers who want to create high-quality music and audio productions on their mobile devices.
It caters to the needs of professional musicians and audio engineers who require a mobile solution for recording, editing, and mixing music and audio projects. The app has received positive reviews for its capabilities and user-friendly interface within the iOS ecosystem.
Price
The price of Auria Pro is $49.99
Features
Multitrack Recording (up to 24 tracks)
MIDI Sequencing
Non-Destructive Audio Editing
Comprehensive Audio Editing Tools
Automation for Volume, Pan, and Effects
Pros
Professional-grade features
Multitrack recording
MIDI sequencing
Third-party plugin support
Advanced mixing console
Mastering tools
Cons
Steep learning curve
Resource-intensive
Relatively high price
Complex interface for some users
WavePad
WavePad is another perfect and excellent audio editing app for both iOS and Android users. It comes with a lot of must-have inbuilt features. Maneuvers involved to have multiple tracks opened at the same time is pretty easy. Furthermore, one of the most liked features is the ability to customize the home view. The editing tools you will find include trim, insert, cut, copy, paste, and add audio effects like amplified echo and noise reduction.
Price
Free for non-commercial use
$39.95 for personal use
$69.95 for commercial use
Features
Works well with a variety of file formats.
Supports the editing of multiple audio file formats.
The ability for auto-trim and voice recording.
Pros
Easy user interface
Crystal clear voice recording
Fast and effective multi-track edit.
Cons
The free version has annoying ads.
MP3 Cutter
The MP3 Cutter app is another famous app, mostly used to make ringtones. You can trim your file the way you like. Apart from this, MP3 Cutter has amazing audio editor tools to seamlessly edit your music all at the comfort of touch. The music is automatically saved after editing. What appeals to most users is the fact that there are no restrictions on the number of ringtones you can make, even in the free version. The edited files can be shared and even set as phone ringtones.
Price
Features
Merge as many videos as you want.
Fast editing speed
Offers lossless editing.
Pros
Let's set the edited file as a ringtone.
Drag and Drop addition of audio files and quick slide edits
Social media integration for quick shares
Cons
Contain ads – a lot of them!
Walk Band
Walk Band is an audio editor portable app for Android users which is akin to the GarageBand app for iOS users which is discussed below. It is comprised of a vast number of fantastic tools which include guitar, bass, piano, drum kit, and others. Walk Band lets you use any of them to come up with realistic instrument sounds.
Price
Features
Has a multitrack synthesizer feature.
EDM drum plugin.
Pros
Wide selection of virtual instruments.
Multitrack recording.
MIDI support.
Realistic sound quality.
Customizable interfaces.
Cons
Exclusive to Android devices.
Includes ads and in-app purchases.
Resource-intensive on some devices.
FAQs
How do I edit audio on my iPhone?
In the iMovie app on your iPhone, open a movie project. In the timeline, tap the audio clip (in blue or purple) or the background music clip (in green) you want to adjust. Yellow trim handles appear. Drag the trim handles at either end of the clip to the points where you want the audio to begin and end.
Does Apple have an audio editor?
The Audio Editor displays the audio waveform of the regions on an audio track. You can copy, paste, move, trim, split, and join audio regions. Using the Audio Editor grid, you can precisely align edits with specific points in time.
Can I edit music tracks with these voice editing apps?
Yes, many of these apps allow you to edit and enhance music tracks as well as voice recordings. You can adjust equalization, add effects, trim, and more
Are these voice editing apps suitable for podcasting or audio storytelling?
Absolutely! Many voice editing apps for iPhones are ideal for podcasters and content creators. They offer features like multi-track editing, noise reduction, and export options for podcast distribution.
Are there any free voice editing apps available for iPhones?
Yes, there are free voice editing apps available, but they often come with limitations or watermarks. Premium apps typically offer more advanced features and a better overall experience.
Can I edit audio in real time using these voice editing apps?
Some apps offer real-time audio processing and effects during recording, allowing you to apply changes as you speak or perform.
Do these voice editing apps support various audio file formats?
Most voice editing apps support common audio formats like MP3, WAV, AAC, and more. However, it's essential to check the specific app's compatibility with the formats you plan to use.
Can I export my edited audio to other platforms or devices?
Yes, you can usually export your edited audio in various formats compatible with other platforms, including social media, cloud storage, or sharing with other devices.
Final words
The world of voice editing tools for iPhone offers a versatile and accessible array of options for users of all backgrounds and needs. These apps empower individuals to capture, edit, and enhance audio recordings directly on their iPhones. Whether you're a podcaster, musician, content creator, or simply looking to refine your voice recordings, there's an app to suit your requirements.
While some of these tools are free and user-friendly, others provide advanced features for professionals and enthusiasts. You can edit not only voice recordings but also music tracks, adding effects, reducing noise, and fine-tuning audio quality.
These apps cater to a wide range of applications, from podcasting and storytelling to music production and field recording. They support various audio formats and often enable seamless export to other platforms or devices.