You need to keep your online information safe, but knowing which security software is best for you is hard.
Hackers are getting increasingly sophisticated, and if your information isn't protected, it could be stolen in a matter of seconds.
Keeper Security is the world's most popular password manager and secure digital vault. Many impactful people and businesses trust Keeper to keep their passwords, photos, documents, and other sensitive data safe and secure.
What is Keeper Security and how to use It?
Depending on your package or add-ons, the password manager service offered by Keeper Security may do much more than save your login credentials. You may stick to the essentials and maintain pricing comparable to other premium password managers, or you can add features like data-breach monitoring, encrypted communications, and additional secured file storage. This password manager is described in our Keeper review.
After establishing an account and downloading Keeper's applications, you may import passwords from your web browser and other password managers. Keeper's browser add-ons may also remember newly entered passwords. Keeper evaluates the strength of your existing passwords, inform you if you have reused them, and indicates if any of your accounts have been compromised.
Auto-filling passwords need just a touch or click. Suppose the computer, phone, or tablet supports biometric identification such as Touch ID or Windows Hello. In that case, you do not need to input your master password to access Keeper's desktop and mobile applications. Additionally, biometric authentication enables offline access to your secure file vault.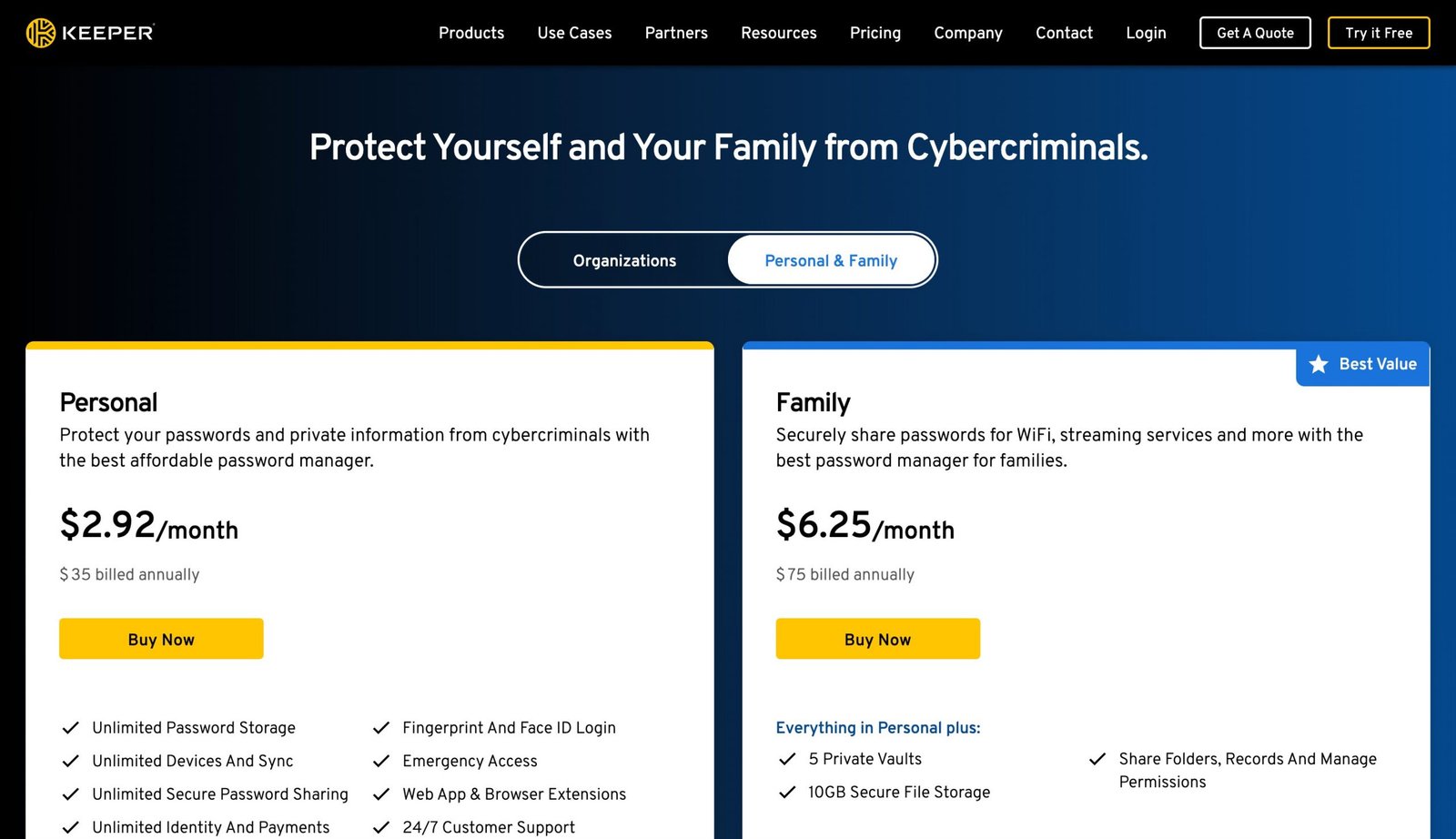 Get 30% off on the personal Plan.
Keeper provides an emergency access option that allows a trusted contact to access your account if you haven't been in for a certain amount of days. To utilize this function, your chosen connection must have its Keeper account. Sharing individual passwords and stored files between users with their Keeper accounts is also supported.
Keeper Features
1. Emergency access
You may choose people who will have access to your vault in an emergency. You may name five contacts and specify how much time must pass before your locker becomes accessible.
Keeper explains that this function is meant for when you become handicapped, disabled, or die. Thus, your digital legacy remains available to others, a relatively novel take on this feature.
2. One-time share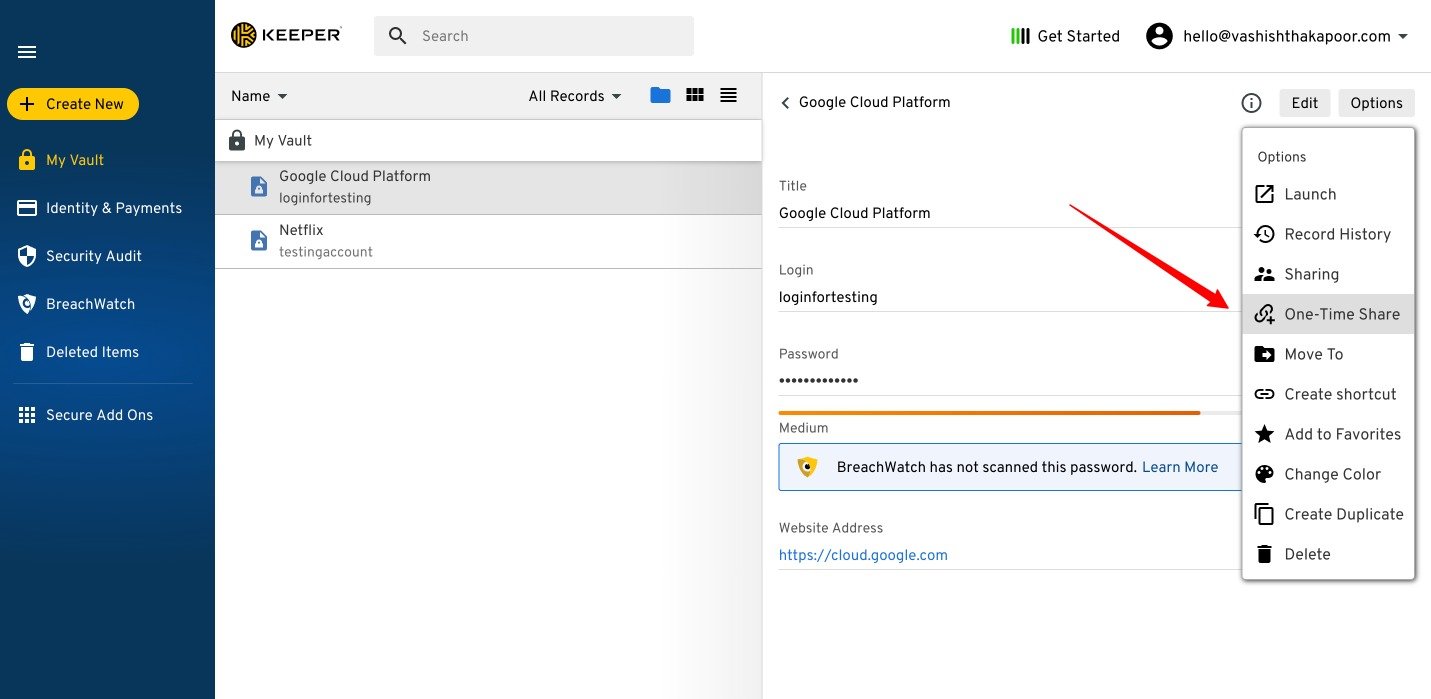 To increase the security of your credentials, Keeper has incorporated time-limited protected sharing with both Keeper and non-Keeper users. With it, you may share sensitive information, such as Wi-Fi or Netflix credentials, with coworkers, classmates, or family members.
Keeper employs military-grade encryption to ensure the absolute safety of your data. For your convenience, you may specify an expiry date for a shared item ranging from 1 hour to 180 days. In addition to QR code, AirDrop, SMS, email, and other messaging platforms, you may send your one-time shared sensitive information through SMS, AirDrop, QR code, and other channels.
3. Record Types
Record Types enables you to use the password manager's secure storage, autofill, and sharing capabilities for more than just passwords. With this new function, you may scan almost any document you own, utilize it on online forms, and share it with family or colleagues. Moreover, using OCR and custom keystrokes, Keeper can automatically populate the credentials of any desktop program of your choosing.
Images of essential papers are shared through WhatsApp or SMS. You may also create new Record Types if none of the available Keeper templates provide the appropriate information. And lastly, automatically populating your preferred desktop applications will save time and work.
4. KeeperFill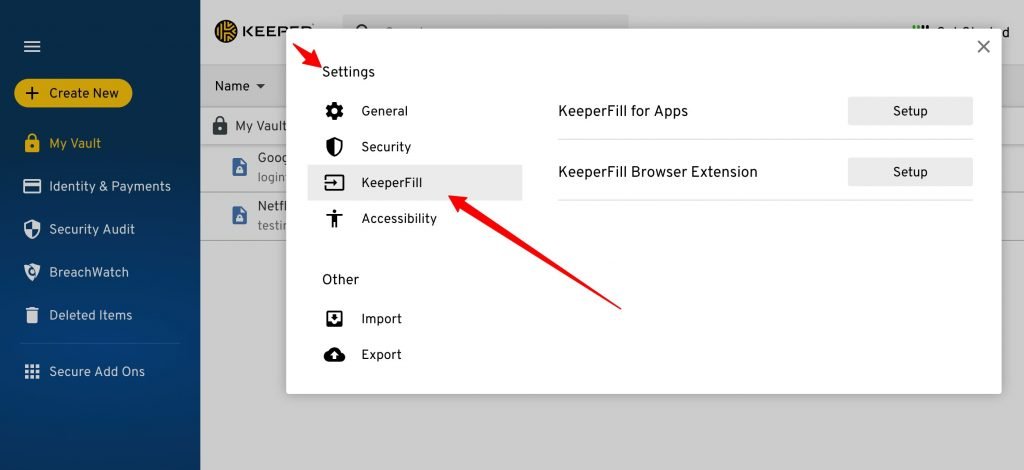 Keeper features an autofill feature to help you save time. You may install it individually or use it alongside the application. On either macOS or Windows, separate installs may be for a browser or a system tray extension.
After logging in, you may search the list and run websites straight from their system-tray add-on. After clicking fill info, you must press enter to confirm admission to the websites or programs, which will auto-complete the credentials.
If you dislike clicking, you may even configure hotkeys. You may configure which button instantly launches KeeperFill and populates the login, password, etc. This may save valuable time when you're in a hurry.
5. Trash Bin
An additional premium feature is the Trash Bin. It allows the recovery of previously erased data. Therefore, if you notice that you erased a credential that you neither recall nor can reset the password, this will be useful.
It is reassuring to know that you can roll back your vault and restore vital information even if anything goes wrong. Keeper is unusual since almost no other password managers provide such a function.
6. KeeperChat

KeeperChat is a standalone messaging application compatible with almost any tablet, smartphone, and computer. All your communications are stored in a secure vault that is only accessible after identification verification. If your device has the necessary sensors, you may also authenticate using biometric authentication, such as a fingerprint reader.
KeeperChat gives more control than other chat programs, such as Facebook Messenger. You can retract communications you do not want the other person to view without their knowledge. Additionally, self-destruct timers may be specified for critical messages and attachments.
Even if someone provided you with a sensitive file, you could segregate it from your primary camera roll. Photographs and videos are kept in your private gallery, so you don't have to worry about appearing up if you want to show someone some photos while handing them your phone.
You may add many individuals to your chat to establish a group, similar to other messaging applications. The program combines seamlessly with Password Manager and Digital Vault from Keeper.
7. BreachWatch
As its name suggests, BreachWatch notifies you when your credentials are discovered on the dark web. In these darknet markets, hackers sell compromised datasets. Repeating passwords may endanger your other accounts if you have a pattern of repeating passwords. The addition of a payment card is a bonanza for criminals.
The only way to limit possible harm is by prompt action. BreachWatch will tell you as soon as it discovers your data, at which point you must immediately reset the compromised password. If you respond promptly, you can altogether avoid danger.
8. Add-ons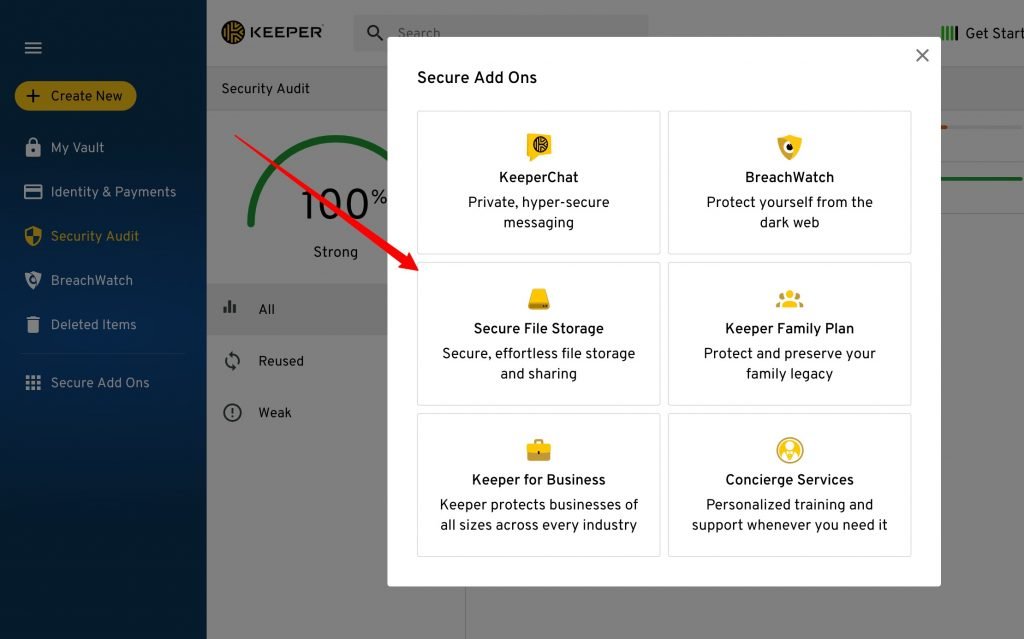 Some features are not included in the bundle you purchase as usual. You may improve your Keeper experience with additional modules for an additional fee. However, if you do not see their value, you may forgo them and pay a reduced monthly payment.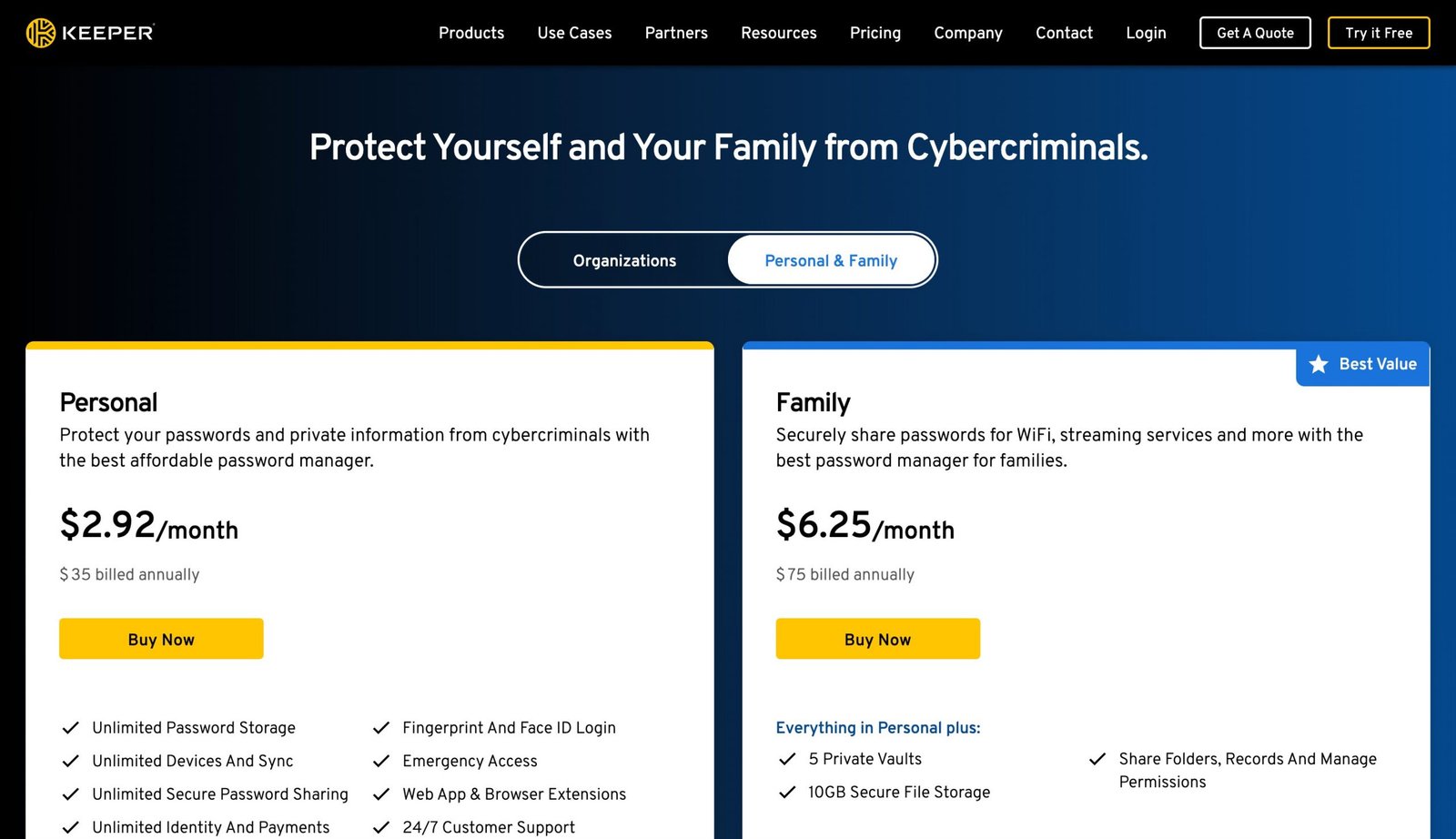 Get 30% off on the Family Plan.
9. Password importing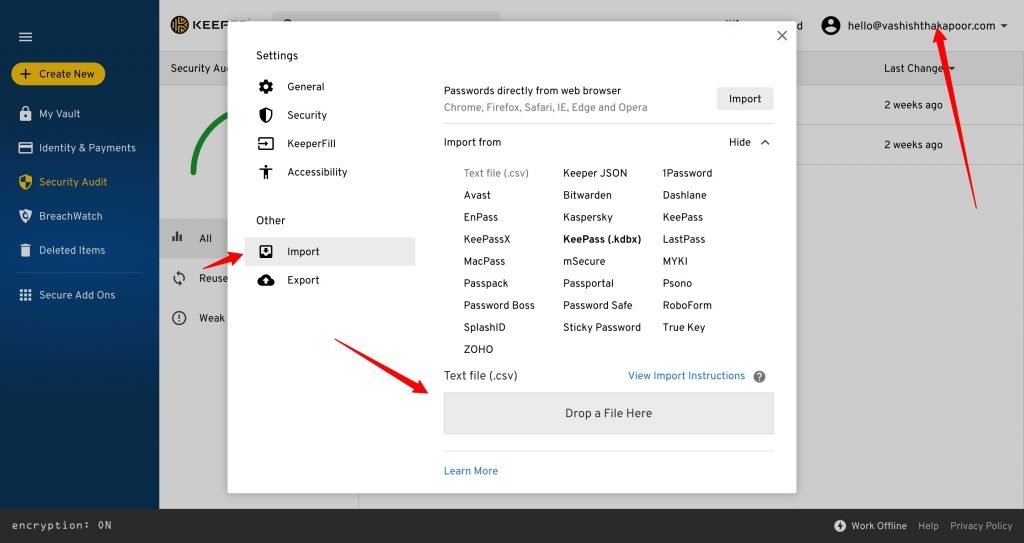 Depending on the current location of your passwords, there are many methods to import them into the Keeper vault. If you're using a browser to save your passwords, Keeper's Importer can automatically import them to the vault if they aren't encrypted. Go to Settings and press the Import option. After the setup is complete, password copies will appear in your vault.
If you currently use a password manager, you must export the database before importing it into Keeper. How this is accomplished will depend on the password manager you choose. Keeper supports imports from 1Password, Roboform, LastPass, EnPass, and other password managers. If you can export to an a.csv file, you can import your credentials into Keeper even if your existing password manager is not on the list.
10. Security audit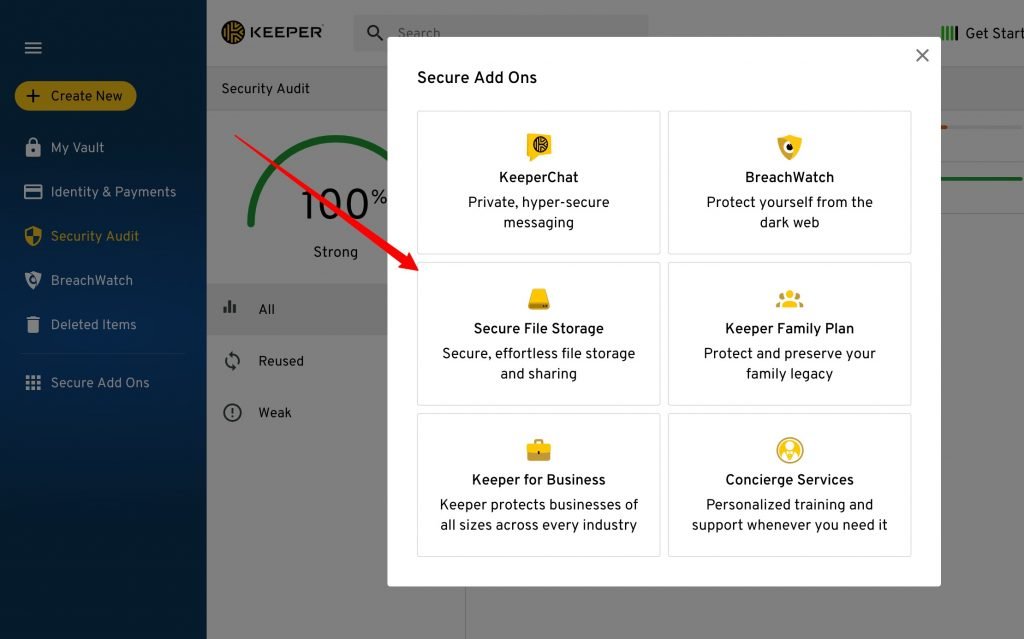 When you export all of your passwords from your browser or other password managers into Keeper, you have the option of evaluating each one. Their technology swiftly determines which ones have been reused and which are insufficiently sophisticated. Therefore, if you want to improve your weakest connections, you should begin here.
It is also convenient that the tool analyzes the difficulty of your password in percentages. Thus, you can determine which of them are weak passwords that would be the simplest to break.
There is no need to be concerned about the tool acquiring your password information. The whole procedure operates offline. It just examines the symbols used in your passwords and their frequency to derive conclusions.
Keeper Mobile Application
Keeper offers a mobile app for Android and iOS. I tried both versions, and they both functioned pretty well.
The mobile applications contain comparable functionality to the desktop software, including the Biometrics login, payment card information storage, security audit, BreachWatch, password vault, face ID, touch ID, and a lot more. It was straightforward to enter new passwords and credit card data, exactly as on the desktop app.
The software also has a clipboard expiry function, which clears any copied password from your device's clipboard within a defined period – this is important to stop scam websites from checking your clipboard to steal your credentials. You may configure this function to trigger up to 120 seconds after copying a password.
KeeperFill, was relatively straightforward to set up, and it worked across all the login forms I tried it with. It allowed me to log into my applications and online accounts through the Safari mobile iOS browser and the Chrome browser for Android.
But the Import Passwords tool – present in the main menu of the Android version — appeared entirely needless to me. When you click on the icon, it merely sends you to the web app. Thus I couldn't indeed import passwords from my mobile browsers.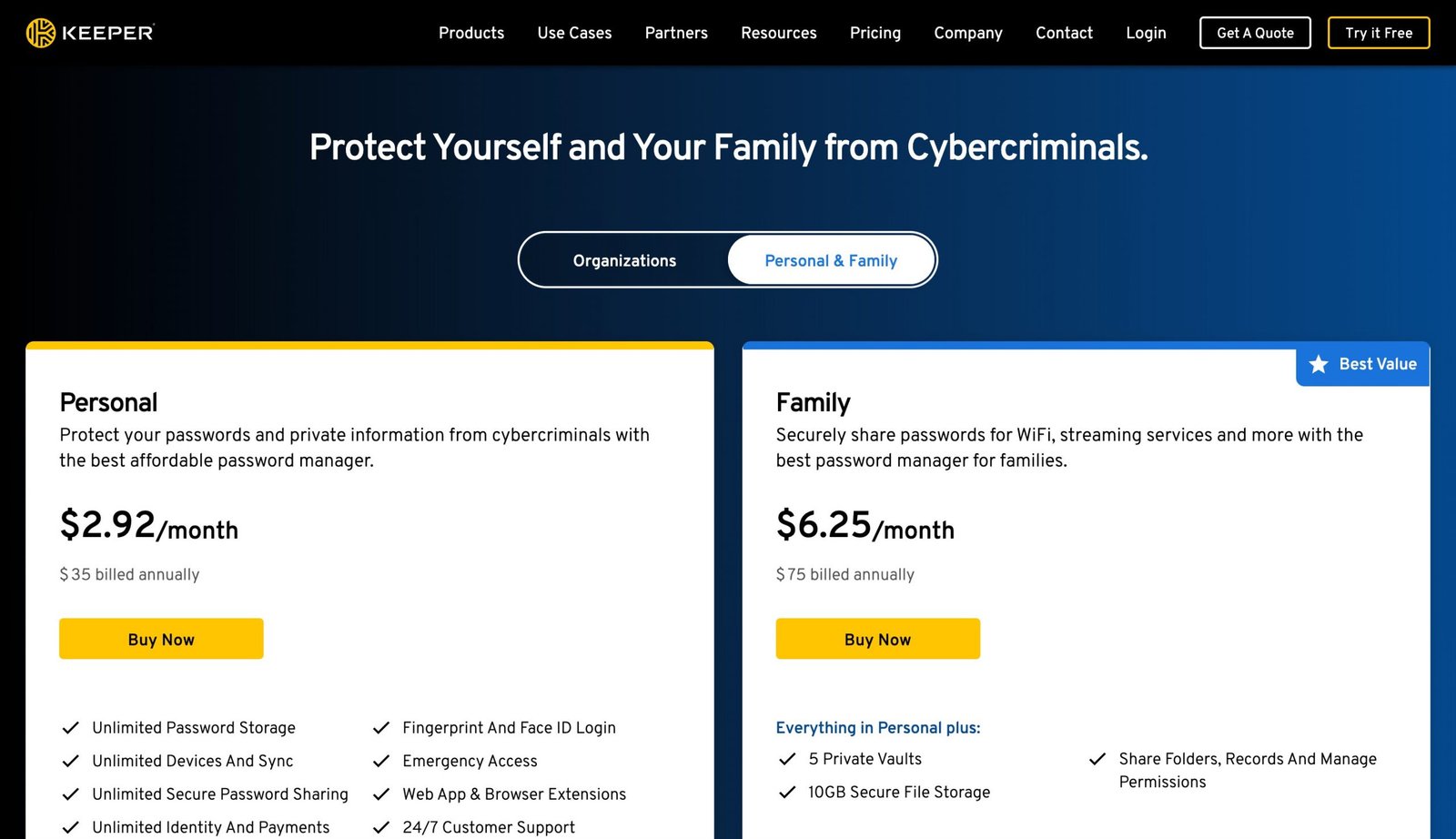 Get 30% off on the personal Plan.
Moreover, I'd like to see Keeper's mobile app feature an independent password generator, like LastPass's mobile app. Again, I'd also want to see Keeper provide emergency access options in their mobile app, as LastPass does.
That said, I truly enjoy the look of the Keeper app. And I believe most people will find it straightforward to set up and utilize. Keeper's app is an excellent solution for most people – it facilitates login into applications and internet accounts through mobile devices.
Keeper Security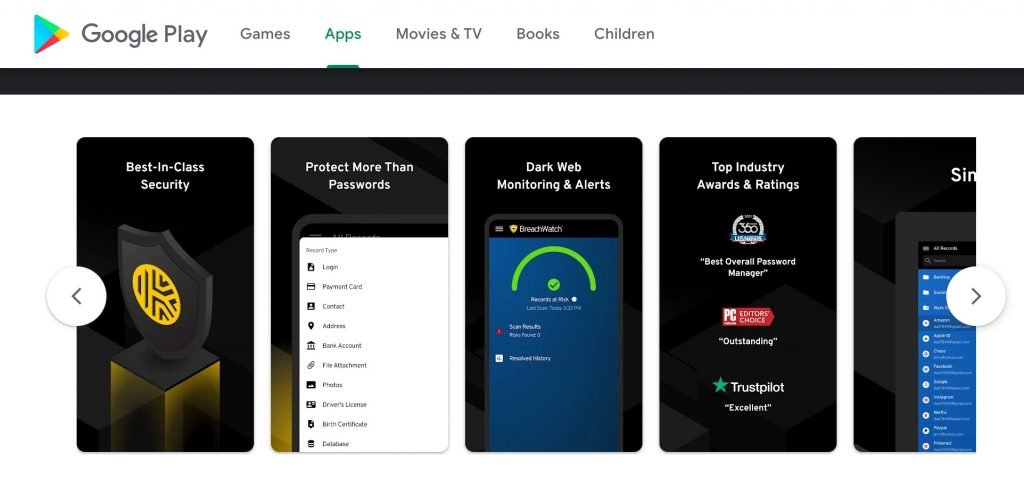 Like many other password managers, Keeper employs AES-256 encryption to protect data on its servers and your devices. Only when you input your master password is your data decrypted locally on your device, so neither Keeper personnel nor hackers can access it.
Keeper is also SOC 2 Type 2 certified, which indicates the Association of International Certified Professional Accountants (AICPA) has confidence in its ability to handle customer data. Additionally, the platform is subject to regular security assessments.
To access their password vaults, free and premium Keeper customers may configure two-factor authentication. Keeper supports time-based one-time passwords (TOTP) delivered through SMS (not advised if you can avoid it), in addition to programs such as Microsoft Authenticator and Google Authenticator and hardware security keys such as YubiKey and Google Titan. Through the KeeperDNA software, an Apple Watch or Android Wear device may also be utilized for 2FA. If you forget your master password, Keeper offers an account recovery option. When you establish a new account, you must put up a security question by default.
You may design the security question rather than being confined to pre-populated possibilities; however, choosing a question to which someone else already knows the answer poses a security risk. If you correctly answer the question, you will get a verification code through email, which will urge you to reset your master password.
Keeper Pricing
For USD 2.91 per month (USD 34.99 per year), you may use Keeper on an unlimited number of devices, generate passwords for new accounts, and automate form and login filling. You may safely exchange login information with others, and biometric authentication can be used to access Keeper. Paid subscriptions additionally include 24/7 assistance through Keeper's internet ticketing system.
If you want encrypted file storage and dark web monitoring to be notified when your data is shared on the dark web, you will have to pay extra for such capabilities. You can also subscribe to the package for USD 4.87 per month (USD 58.47 per year).
The family plans offer the same features as the individual plan, with the addition of five vaults so that each member of your crew has their password vault. The Keeper Unlimited package for families costs USD 6.24 per month (or USD 74.99), while the Plus Bundle, which adds dark web monitoring and up to 10 GB of file storage, costs USD 8.62 per month (or USD 103.48).
Conclusion
If you are prepared to pay for a password manager, Keeper is a worthy option to consider. Keeper's interface is clear, consistent, and easy to manage across all major platforms and devices, and it matches the majority of features offered by similarly priced rivals.
Keeper's security precautions and add-on options, such as increased storage and dark web surveillance, are especially noteworthy. Now that additional identity-form templates are available, Keeper is one of the market's leading premium password managers.
Although Keeper's distinctive features and subscription perks set it apart from the competition, its security is the most significant aspect. Password managers control your most sensitive data, namely credentials. Due to this, you cannot afford faults.
Thankfully, Keeper seems to be relatively secure. Here are the primary factors that will ensure the security of your data –
Self-Destruct: This function allows you to delete all locally saved passwords simultaneously.
Two-factor authentication: Several 2FA methods are supported by Keeper, enabling you to log in to your account more securely.
Third-party audits: This password manager has passed an independent assessment and adheres to security best practices.
Encryption: Keeper employs AES-256 encryption to ensure that the contents of your vault remain confidential. Additionally, it is a zero-knowledge service, meaning it has no access to your data.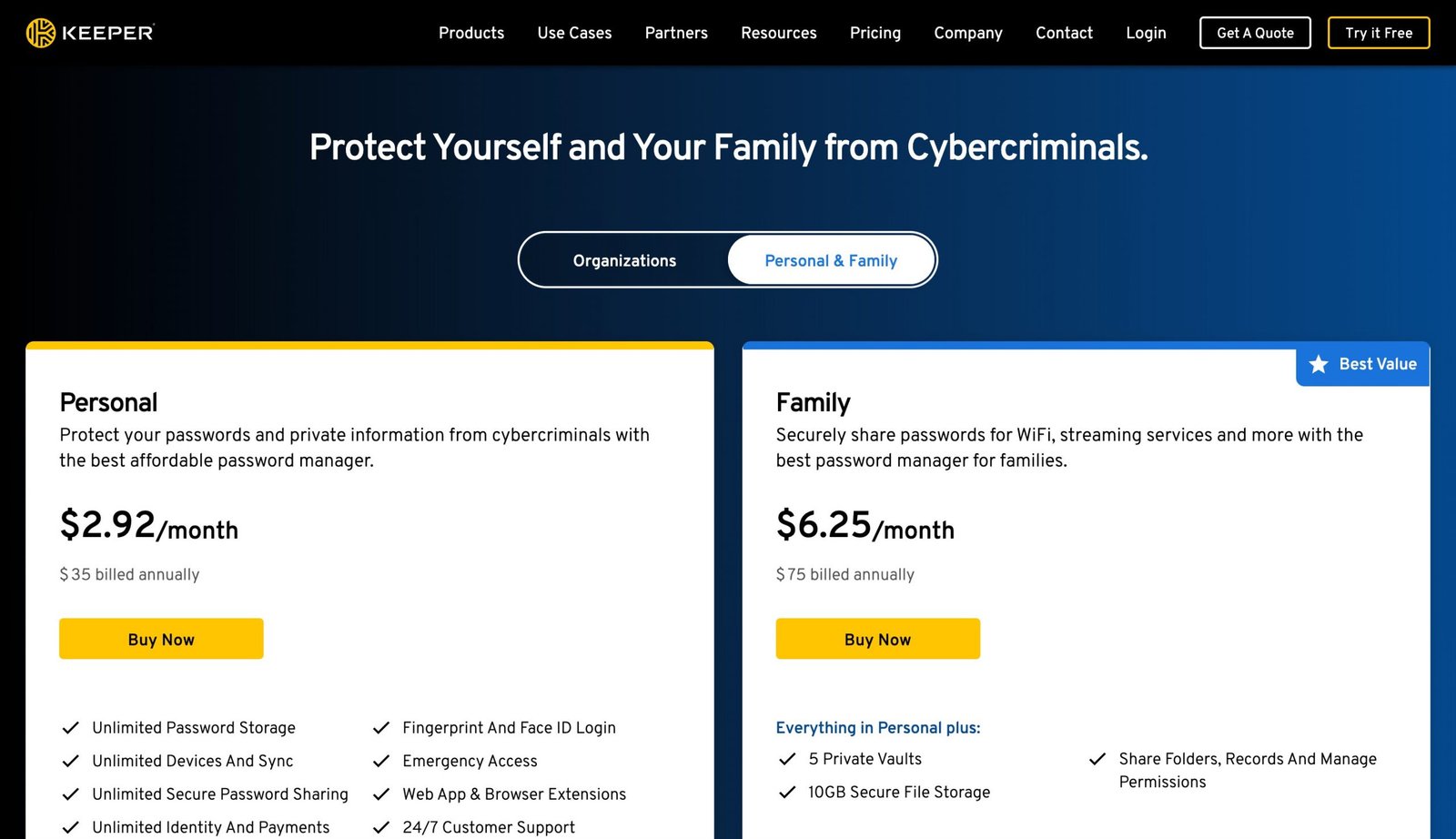 Get 30% off on the personal Plan.
FAQs
Why do we need random password generators?
A random password generator can help you generate lengthy, difficult-to-crack strings of random characters. If you design your password, you may be tempted to pick something simple to remember, but this puts your accounts in danger, mainly if you're not using two-factor authentication. You may take several precautions to safeguard critical funds, such as your online banking information.
Can Keeper be hacked?
Any organization is susceptible to hacking. Therefore the possibility exists. Nonetheless, Keeper employs the standard AES-256 encryption method for all data transfers on its servers. This ensures that your data, including your master password, is never kept in plaintext format. This zero-knowledge strategy guarantees that your data remains encrypted, preventing even Keeper employees from gaining access to it.
Is Keeper safe?
Keeper employs very robust AES-256 and PBKDF2 encryption to safeguard your passwords. It will only decrypt your data on your device (not online). Thus any vulnerability of its systems should not allow your stored passwords to be disclosed. Randomly generated keys on your device also protect individual password records. Keeper enables two-step verification to safeguard your passwords and reset your master password. In addition, improperly entering the master password five times on a device will trigger a self-destruct function that deletes Keeper's data from the device (but not your account).
Can I use Keeper on all my devices?
Regardless of the plan, paid members may use Keeper on an unlimited number of devices, and passwords and data will be synchronized across those devices through the cloud. The service is compatible with all major mobile operating systems, including Linux, iOS, and Android. Keeper is compatible with all major web browsers (Chrome, Microsoft Edge, Safari, Firefox, and more).