Imagine your smartphone getting a shiny makeover, with exciting new features and improvements that make your daily life easier and more enjoyable. That's precisely what iOS 17 aims to deliver for Apple users. In this comprehensive guide, we'll be your tour guides into the world of iOS 17, offering you all the insights you need to stay informed and excited about this upcoming update. From its expected release date to the potential game-changing enhancements, we've got it all covered. Whether you're a devoted Apple enthusiast or just curious about what's next for your device, let's embark on this journey together and explore all the incredible possibilities that iOS 17 might bring.
The iOS updates have a history of transforming the way we use our iPhones and iPads, adding new dimensions of convenience, security, and fun. With iOS 17 on the horizon, we'll dive deep into what this update might hold for you. From performance boosts to privacy advancements and the potential introduction of new apps and features, we'll provide you with a sneak peek into the future of Apple's mobile operating system. So, get ready to be thrilled, because iOS 17 is about to take your device to a whole new level, and we're here to guide you through it all.
Key New features in iOS 17
AirPods
Several notable changes have arrived for AirPods with the introduction of iOS 17. For AirPods Pro (2nd Generation), both the Lighting and USB-C models now have a feature called "Adaptive Audio." This clever feature combines "Transparency mode" and "Active Noise Cancellation (ANC)" mode to adapt to your surroundings. It's like having your AirPods automatically adjust to the noise around you, making your listening experience even better.
Additionally, there's something called "Conversation Awareness mode," which is pretty handy. And for those who own AirPods Pro (2nd Generation), there's a "Personalized Volume" feature that tailors the audio experience just for you.
For those with other AirPods models, the "Automatic Switching" feature has been improved, making it easier to switch between your Apple devices. And here's a nifty one: you can now mute yourself with a simple tap on AirPods Pro (1st and 2nd generation), AirPods (3rd generation), and AirPods Max. So, whether you're in a meeting or just need a quick pause, it's all at your fingertips.
AirDrop
AirDrop in iOS 17 has some exciting new features. Now, you can easily share stuff with another iPhone by just putting your iPhone close to it. No more tapping or selecting; it just knows what you want to share. And guess what? If you start sharing something with AirDrop, you don't have to stand there waiting. You can walk away, and it will keep sending. It's like magic! Plus, if you want to watch something together with a friend, you can start a SharePlay session by holding your iPhones next to each other. It's super easy and fun.
Personalised Contact Posters
Personalized Contact Posters is a new feature in iOS 17 that allows you to create custom contact posters for your friends and family. These posters can be used to share your contact information in a fun and creative way, and they can also be used to decorate your home or office.
To create a personalized contact poster, simply open the Contacts app and select the contact you want to create a poster for. Then, tap on the "Share" button and select "Personalised Contact Poster". You can then choose from a variety of templates and designs, and you can also add your own text and images. Once you're happy with your poster, you can tap on "Share" to save it to your Photos library or to send it to someone else.
FaceTime
In iOS 17, FaceTime gets a boost with exciting new features that make staying connected more enjoyable. Now, you can leave video messages for your friends and family who might miss your FaceTime calls. This handy feature lets you record short video messages at your convenience, and your loved ones can watch them whenever they have time, even if they live in different time zones.
Plus, you can react with fun emojis like hearts and thumbs up during your calls, adding a playful touch to your conversations.
Another cool addition is live voicemail transcription, which instantly turns your voicemail messages into written text, saving you time and letting you quickly scan for important information. And to top it off, FaceTime now offers improved video quality, making your calls look even better, especially in dimly lit environments. With support for SharePlay, you can share movies, TV shows, and more with your FaceTime pals, making it easier than ever to enjoy content together, no matter where you are. FaceTime in iOS 17 is all about making your video calls more engaging and versatile.
Messages
In iOS 17, Messages gets some cool upgrades to make chatting even easier. Now, you can reply with a simple swipe, just like you do in WhatsApp. This means you can quickly respond to messages without any fuss. Plus, searching for specific messages is a breeze with new search filters, helping you find what you need in a snap.
But that's not all! iOS 17 also makes audio messages smarter by transcribing them for you. So, instead of needing to find a quiet place to listen to them, you can read them right away, even if you don't have headphones. These changes in messages are all about making your chats more convenient and efficient.
Live Voicemail
Live Voicemail is a new feature in iOS 17 that allows you to see a real-time transcription of a voicemail message as the caller is leaving it.
To use live voicemail, simply open the Phone app and tap on the Voicemail tab. When you receive a new voicemail message, you will see a transcription of the message in real time. You can then tap on the Play button to listen to the message, or you can tap on the Reply button to reply to the message with a text message.
Live voicemail is a great new feature that can help you save time and stay organized. It is especially helpful for people who receive a lot of voicemail messages or who have difficulty understanding voicemail messages.
Live Stickers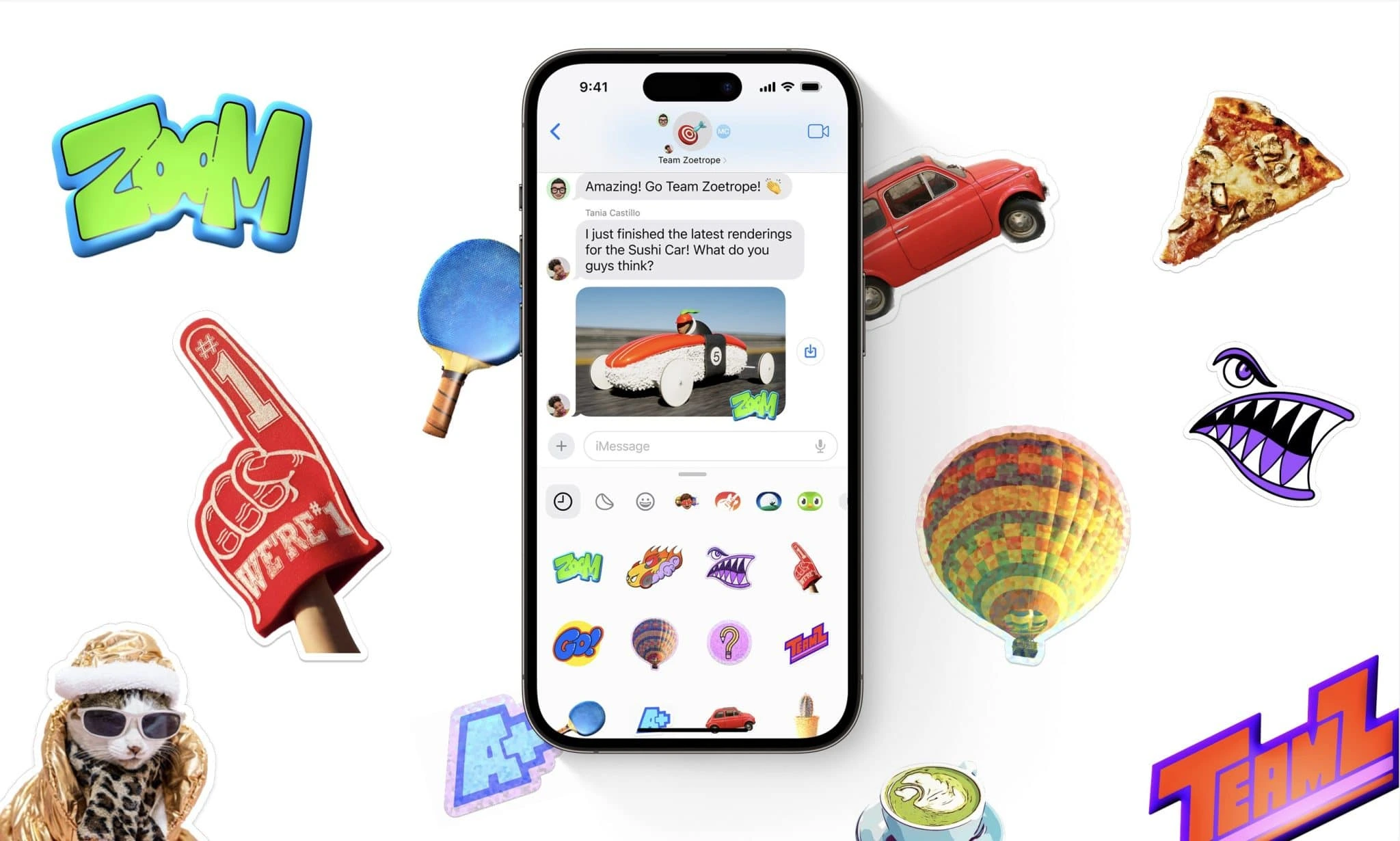 Live Stickers in iOS 17 are a new way to communicate with your friends and family in a fun and creative way. Live Stickers are animated stickers that move and respond to your touch. They can be used to express your emotions, add personality to your messages, and make your conversations more engaging.
To create a live sticker, simply open the Messages app and tap on the Stickers icon. Then, tap on the + button and select the Live Stickers option. You can then select a photo or video from your library to create a live sticker from. Once you have selected a photo or video, you can edit it and add effects to create a unique live sticker.
Once you are happy with your Live Sticker, tap on the Add Sticker button to add it to your sticker collection. You can then use your Live Sticker in any conversation by tapping on the sticker icon and selecting your Live Sticker.
Check In
In iOS 17, there's this nifty thing called "Check In." It's like having a virtual buddy that lets your friends or family know when you've safely reached your destination, like your home. And here's the cool part: if something unexpected happens and you stop moving towards your destination, it checks in with you. If you don't answer, it automatically shares helpful information with your friend, like where you are and how much battery you've got left. It's like having an extra safety net when you're on the go!
Keyboard
iOS 17 introduces a revamped keyboard that's smarter and more versatile. It boasts a highly improved autocorrect function, powered by an advanced transformer language model, ensuring fewer mistakes and better personalization as it learns your writing style. The addition of inline predictive text further streamlines typing, presenting word suggestions directly in the text field as you type, boosting both speed and accuracy.
For users of Kannada, Malayalam, Tamil, Telugu, and other languages, iOS 17 brings transliteration keyboards, allowing faster native language typing, even without familiarity with the Latin alphabet. This update also enhances keyboards for numerous languages with better autocorrection and predictive text. Japanese users gain a unique handwriting keyboard. In iOS 17, the keyboard becomes a more powerful and adaptable tool for users around the world.
StandBy mode
Standby mode is a new feature in iOS 17 that turns your iPhone into a smart display when it is placed on a charger in landscape orientation. It shows you a variety of useful information, including the time, date, weather, calendar events, and notifications. You can also customize StandBy mode to show the widgets that are most important to you.
To use StandBy mode, simply place your iPhone on a charger in landscape orientation. StandBy mode will automatically turn on, and you will see a variety of widgets on the screen. You can swipe left or right to scroll through the widgets, or tap on a widget to open it.
To customize StandBy mode, go to Settings > StandBy. Here, you can choose which widgets to show in StandBy mode, and you can also change the order of the widgets. You can also choose whether to show notifications in StandBy mode, and whether to show the time and date in dimmed or bright mode.
Widgets
Widgets in iOS 17 have been significantly improved, with a number of new features and improvements that make them more powerful, versatile, and customizable.
One of the biggest new features is that widgets are now interactive. This means that you can perform actions directly from a widget without having to open the associated app. For example, you can play or pause music from the Music widget or turn on your lights from the Home widget.
Widgets can also now be placed on the lock screen, so you can view important information at a glance, even when your phone is locked.
Journal app
The Journal app in iOS 17 is a new app that helps users to reflect on everyday moments and special events in their lives. It uses on-device machine learning to create personalized suggestions to inspire a user's journal entry.
To use the Journal app, simply open the app and start typing. The app will suggest prompts and questions to help you get started. You can also add photos, videos, and audio recordings to your journal entries.
The Journal app is a great way to capture your thoughts and feelings over time. It can also be a helpful tool for self-reflection and personal growth.
Safari
Safari in iOS 17 comes with some handy upgrades. Now, you can create separate profiles for work and personal browsing. These profiles keep everything separate, like your history, extensions, Tab Groups, cookies, and favorites. It's like having two browsers in one!
Searching is easier too, and Private Browsing windows are locked when you're not using them for extra security. Plus, here's a real game-changer: Safari can automatically fill in verification codes from your email, so you don't have to switch between apps. It's all about making your web browsing smoother and more organized.
Music
iOS 17's Music app is a robust and versatile music player, perfect for those seeking a top-notch listening experience. Among its standout features is crossfade, enabling seamless transitions between songs, ideal for keeping the music flowing at gatherings.
Another exciting addition is collaborative playlists, facilitating easy sharing and editing with friends and family, fostering music discovery and group playlist curation. Alongside these, iOS 17 enhances the Music app with improved search functionality, fresh playlists, radio stations, and a revamped user interface. It's a comprehensive package for music enthusiasts.
AirPlay
AirPlay in iOS 17 has been significantly improved, with a number of new features and improvements that make it more intelligent, powerful, and versatile.
One of the most notable new features in AirPlay is the intelligent AirPlay device list. AirPlay now uses on-device intelligence to learn your preferences and show your devices in order of relevance, based on your recent usage. This makes it easier to find the device you want to AirPlay to, without having to scroll through a long list of devices.
Another new feature in AirPlay is suggested AirPlay device connections. AirPlay can now proactively suggest connections to devices based on your prior usage. For example, if you typically AirPlay to your Apple TV in the living room, AirPlay will suggest that device first when you open the AirPlay menu. This makes it even easier to start AirPlaying your content without having to manually select a device.
Maps
Maps in iOS 17 is a powerful and versatile navigation app that has been significantly improved with a number of new features and improvements. It is now a great choice for users who are looking for a comprehensive navigation experience, whether they are driving, walking, cycling, or taking public transportation.
One of the most notable new features in Maps is the ability to download maps for offline use. This means that you can still navigate even when you don't have internet access, which is very useful when traveling to new places or when you are in areas with poor cellular coverage.
Another new feature in Maps is the improved search. The search feature now uses on-device intelligence to learn your preferences and show you results that are more relevant to you. For example, if you frequently search for restaurants, Maps will show you more restaurant results when you search for a location.
Health
The Health app is getting even better with iOS 17. It's not just talk; there are some cool updates. Now, you can track your moods and emotions, which is a great way to keep tabs on how you're feeling. Plus, if you have issues with your vision, like being nearsighted, the app helps you manage that too. It's all about taking care of your well-being in a more complete way.
Release Date
Apple revealed iOS 17 during WWDC 2023, and after that, they shared early versions with developers and the public to fix any issues and ensure all apps worked well with the new iPhone software.
Then, on Monday, September 18, 2023, Apple made iOS 17 available to everyone worldwide. So, if you have an iPhone, you can now get the latest update and enjoy its features.
Features and Improvements
New iOS updates typically bring a variety of features and improvements. While I can't provide specific details about iOS 17, you can expect enhancements in areas like user interface design, performance, security, privacy, and app functionality. Apple may also introduce new apps or update existing ones.
Privacy Enhancements
In iOS 17, your privacy takes center stage with several key enhancements. Notably, it includes improved tracking prevention measures, blocking known trackers and fingerprinting while removing tracking parameters from URLs, safeguarding your web activity from prying eyes.
Additionally, the update enhances transparency by requiring apps to seek your permission before accessing sensitive data like location and photos. You can also access detailed privacy reports for each app, giving you greater control and insight into your data's usage. These features collectively empower users to protect their personal information and maintain control over their digital privacy.
Performance
iOS 17 is generally considered to be a performance improvement over iOS 16. Many users have reported that their devices feel faster and more responsive after updating to iOS 17.
This is likely due to a number of factors, including Apple's ongoing work to optimize the iOS operating system, the use of more powerful hardware in newer iPhone models, and the introduction of new features and improvements in iOS 17 that have been designed to improve performance.
Bug Fixes and Stability
iOS 17 is generally considered to be a stable operating system with few bugs. However, there have been some reports of bugs in iOS 17, including battery drain issues, performance issues, app crashes, connectivity issues, and software glitches.
Apple is actively working to fix these bugs, and new software updates are released regularly. If you are experiencing any bugs in iOS 17, you can check the Apple website for the latest software updates.
App Updates
App updates in iOS 17 are available through the App Store. To update your apps, you can either open the App Store and tap the Today tab, then scroll down to the App Updates section and tap Update All, or you can tap Update next to a specific app to update it individually. You can also enable automatic app updates in the Settings app so that your apps are updated automatically when new versions are available.
Security
iOS updates traditionally encompass a range of security enhancements, encompassing critical aspects such as the deployment of security patches to address known vulnerabilities, rigorous app security measures in the App Store, strengthened authentication methods like Face ID and Touch ID, robust data encryption for both data at rest and in transit, improved user control over app permissions, and active engagement with security researchers through a bug bounty program.
For the most up-to-date information on iOS 17's security features, it is advisable to refer to Apple's official announcements and release notes when the update is officially launched, ensuring that user devices remain fortified against potential threats.
Which devices support the iOS 17 update?
Here's a list of the iPhones that can download the iOS 17 update. Note that there's no longer support for the iPhone 8, iPhone 8 Plus and iPhone X.
iPhone 14 Pro Max
iPhone 14 Pro
iPhone 14 Plus
iPhone 14
iPhone SE (2022)
iPhone 13 Pro Max
iPhone 13 Pro
iPhone 13
iPhone 13 mini
iPhone 12 Pro Max
iPhone 12 Pro
iPhone 12
iPhone 12 mini
iPhone 11 Pro Max
iPhone 11 Pro
iPhone 11
iPhone SE (2020)
iPhone XS Max
iPhone XS
iPhone XR
If you want to upgrade to get access to the latest software, take a look at our pick of the best iPhones.
FAQs
Are there any known issues or bugs with iOS 17?
It's common for early versions of iOS updates to have minor bugs. These are typically addressed in subsequent updates, so it's a good practice to keep your device up-to-date.
Can I downgrade to a previous iOS version if I don't like iOS 17?
Apple generally allows downgrades for a limited time after a new release, but this window is usually short. After that, you may not be able to revert to a previous iOS version.
Are there any performance improvements in iOS 17?
iOS updates often come with performance enhancements that can lead to faster and smoother device operation.
What are the privacy enhancements in iOS 17?
While specifics may vary, iOS updates usually include improved privacy features such as enhanced tracking prevention, transparent app permissions, and data usage reports.
What are the privacy enhancements in iOS 17?
While specifics may vary, iOS updates usually include improved privacy features such as enhanced tracking prevention, transparent app permissions, and data usage reports.
How can I update to iOS 17?
You can update to iOS 17 through your device's settings. Ensure you have a stable internet connection and sufficient storage space before updating.
Is iOS 17 compatible with my device?
Compatibility varies, but iOS updates typically support newer iPhone and iPad models. Apple provides a list of compatible devices when iOS 17 is officially announced.
Final words
iOS 17 represents another exciting evolution of Apple's mobile operating system, bringing a host of new features, enhancements, and improvements to enhance the user experience. While the specific details of iOS 17 may vary, Apple typically focuses on privacy, security, performance, and user-friendly features.
This update continues Apple's commitment to delivering innovative technology to its users. To stay informed about iOS 17 and its capabilities, it's best to refer to Apple's official announcements and release notes, ensuring that you can make the most of your iOS device while keeping it secure and up to date. As always, iOS users can look forward to an even more seamless and feature-rich mobile experience with each new iteration.