People are eagerly waiting for the Apple M3 chip, which is expected to be the next big thing from Apple. We know that the M2 is about to be released, but it's safe to assume that Apple is already working on the M3, given how long it takes to develop these chips. Before the M3, we are expecting to see the M2 Pro, M2 Max, and M2 Ultra.
Apple made a significant change by moving away from using Intel chips and designing their own, starting with the M1 chip in 2020. The M1 was a hit, offering super-fast performance and efficiency in devices like the MacBook Pro, MacBook Air, and Mac mini.
Following that success, Apple introduced even more powerful chips, such as the M1 Pro, M1 Max, and M1 Ultra. Now, the M2 is on the horizon. While it may be less powerful than the upgraded M1 chips, it has more transistors and memory bandwidth than the original M1. People are excited about the Apple M3 chip, especially with reports suggesting that Intel's new Meteor Lake CPU could compete with the M2.
Now, let's talk about what's inside these chips. Think of them as the heart and brain of your computer. The regular M3 chip will have 8 parts for doing computer tasks (we call them CPU cores) and 10 parts for making graphics look awesome (we call them GPU cores). As we go up the ladder, the fancier M3 chips will have even more of these parts, which means they can do more stuff at once.
M3 Chip: Some Comparisons
For regular use: ‌M2‌ vs. M3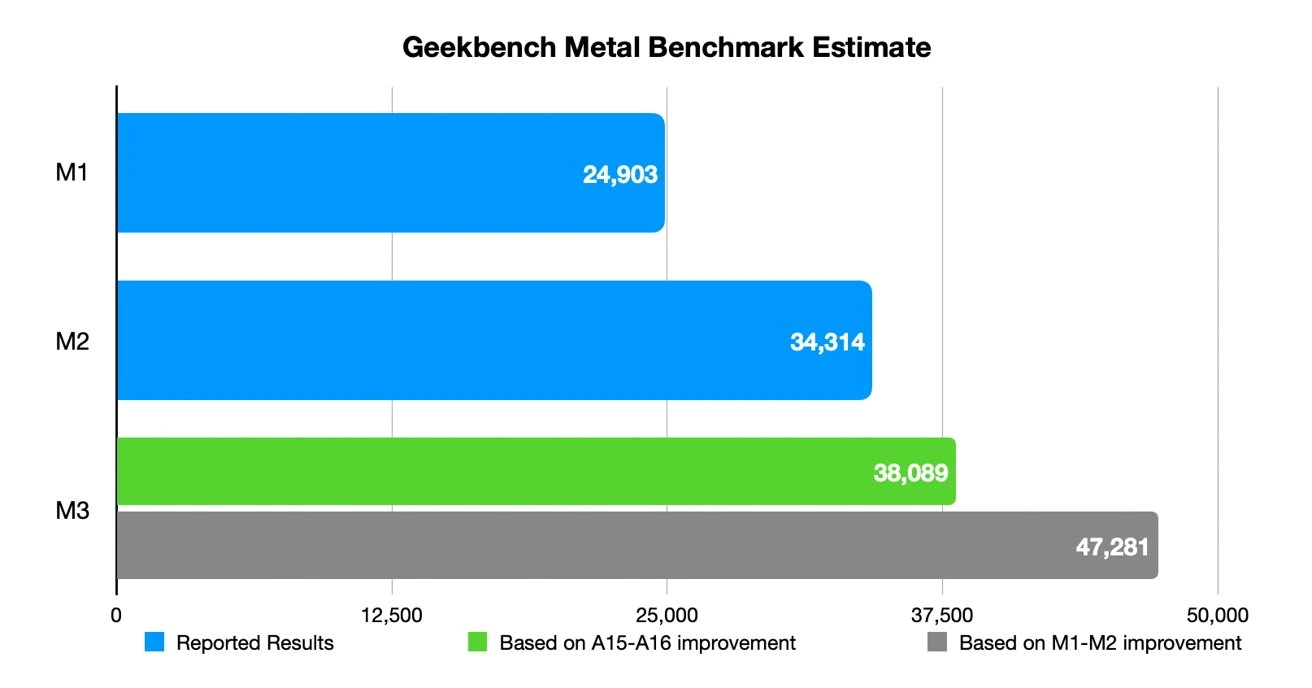 Both have 8 CPU cores (4 for working hard, 4 for saving energy).
Both have 10 GPU cores to make things look good.
For professional stuff: M2 Pro vs. M3 Pro
M2 Pro has 10 or 12 CPU cores (6 or 8 for working hard, 4 for saving energy).
M2 Pro has 16 or 19 GPU cores.
M3 Pro has 12 or 14 CPU cores (6 or 8 for working hard, 6 for saving energy).
M3 Pro has 18 or 20 GPU cores.
For super-duper performance: M2 Max vs. M3 Max
M2 Max has 12 CPU cores (8 for working hard, 4 for saving energy).
M2 Max has 30 or 38 GPU cores.
M3 Max has 16 CPU cores (12 for working hard, 4 for saving energy).
M3 Max has 32 or 40 GPU cores.
And the ultimate power: M1 Ultra vs. M3 Ultra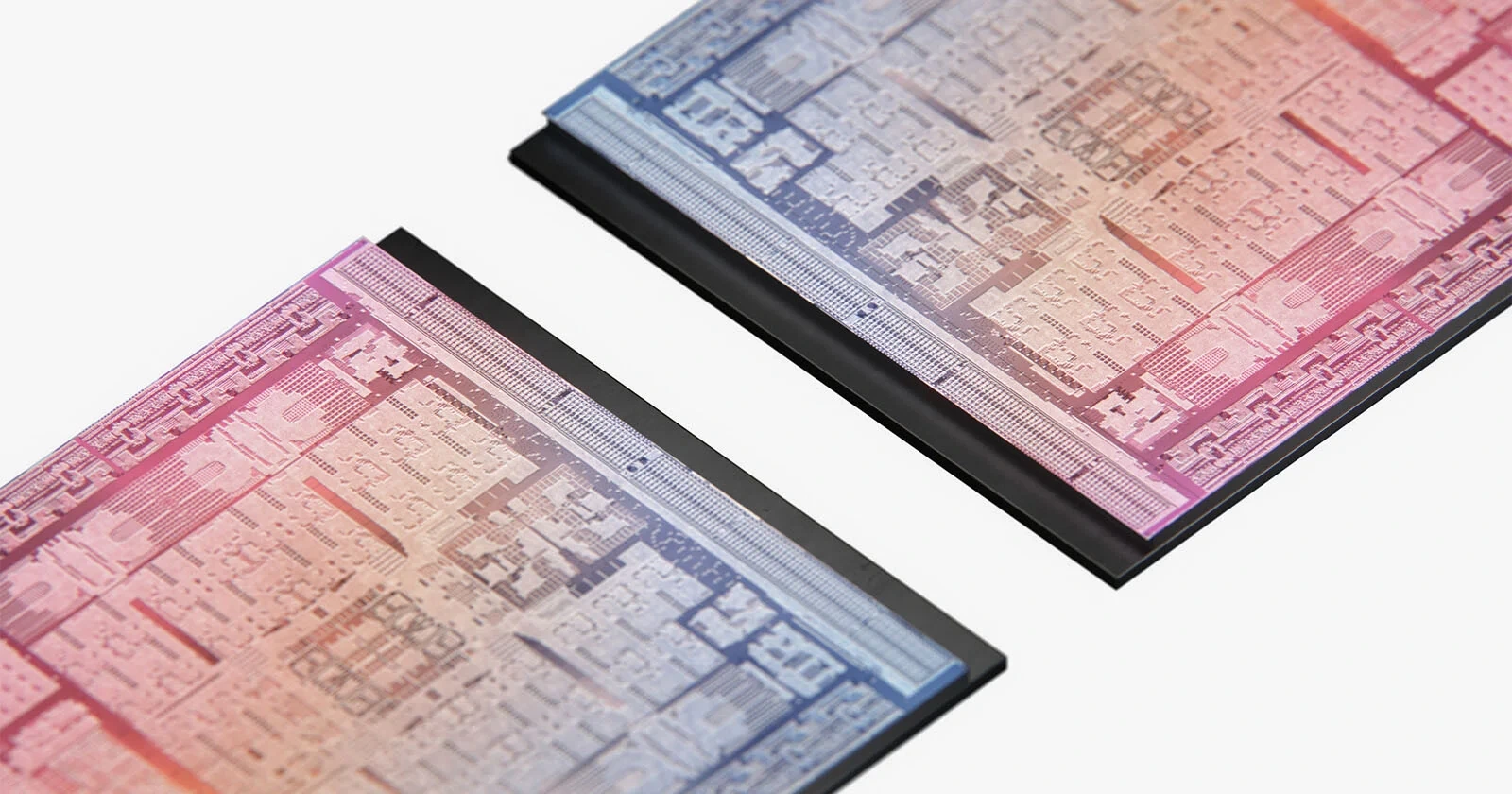 M1 Ultra has 24 CPU cores (16 for working hard, 8 for saving energy).
M1 Ultra has 60 or 76 GPU cores.
M3 Ultra has 32 CPU cores (24 for working hard, 8 for saving energy).
M3 Ultra has 64 or 80 GPU cores.
Rumored Release Date of M3 Chip
According to Mark Gurman's recent newsletter, we can expect Apple's new M3-powered Macs to be released after their September launch event, which will likely include the iPhone 15, Apple Watch Series 9, and Apple Watch Ultra.
The recently released MacBook Pro 14-inch 2023 and MacBook Pro 16-inch 2023 are still quite new, so their next versions with M3 Pro and M3 Max chips may not arrive until the first half of 2024.
Gurman mentioned that Apple is testing third-party apps on Macs with M3 chips to ensure they work well with Apple's ecosystem. This testing process has given us early hints of new chips, like the rumored 15-inch MacBook Air.
Previously, Gurman and another leaker named Revegnus suggested that the first Macs with M3 chips might come by the end of 2023 or early 2024. However, according to Revegnus, there might be a delay until 2024 because TSMC, the chip manufacturer, might not produce enough M3 chips for Apple's tablets, laptops, and desktops in 2023. So, iPads and Macs with M3 chips might only appear in 2024.
Apple M3 chip Outlook
While the Apple M3 chip is still speculative, there is a possibility that Apple might announce its new processors at WWDC 2023. If the M3 chip offers a substantial boost in computational power over its predecessor, it could rekindle interest in Apple's Mac products, which have seen a decline in sales recently.
Though Macs like the MacBook Air M2, Mac mini M2, and MacBook Pro 16-inch 2023 (among others) offer better performance over their respective predecessors, it's not the same leap seen when Apple switched from Intel chips to its own silicon with the original M1 chip. This is likely one of the reasons Apple's Mac business suffered a 31% sales decline last quarter. If Gurman's latest report on the M3 chip comes to pass, we could see a substantial boost in computational power over M2. Perhaps that will reignite interest in Macs.
Apple M3 Chip Rumored specs 
According to unverified reports, the Apple M3 chip is said to utilize TSMC's cutting-edge 3nm manufacturing process. If these claims hold true, Apple would potentially be the pioneer in deploying this advanced process node. In practical terms, this technological leap would likely result in a substantial performance boost for upcoming MacBook Air and iPad Pro models compared to their predecessors, which currently rely on TSMC's 5-nanometer technology.
Insiders, citing Bloomberg's Mark Gurman, have suggested that Apple has conducted trials with an iteration of the M3 Pro chip featuring an impressive configuration. This variant supposedly boasts 12 CPU cores, 18 GPU cores, and a generous 36GB of memory. The CPU architecture is purportedly composed of 6 high-performance cores and 6 efficiency cores. It's noteworthy that this specific chip was reportedly in use within a forthcoming "high-end" MacBook Pro, running in tandem with the forthcoming macOS 14. Allegedly, this configuration represents the baseline model of the M3 Pro.
For context, the previously introduced M2 Pro chip is equipped with a 10-core CPU, a 16-core GPU, and 16GB of RAM. If these reports are substantiated, the leap in core counts from the M2 Pro to the M3 Pro would mirror the progression seen from the M1 Pro to the M2 Pro.
Expanding on these speculations, it is conceivable that an M3 Ultra chip might boast a remarkable 28 CPU cores and an astonishing 80+ GPU cores, surpassing the 64-core constraint observed in the existing M1 Ultra chip.
What do we know about the Apple M3 chip?
Apple recently unveiled its M2 chip, representing the latest advancement in its custom silicon lineup. While the company remains tight-lipped about its future chip developments, the rumor mill is buzzing with whispers about the potential Apple M3 chip.
While no official statements have emerged from Apple, various leaks and speculative reports suggest that an M3 chip is in the pipeline. These rumors indicate that Apple may leverage an updated manufacturing technology from the Taiwan Semiconductor Manufacturing Company (TSMC).
TSMC is currently developing what they refer to as the "N3" technology, a cutting-edge 3-nanometer (3nm) chip design. In contrast, Apple's existing M1 and M2 chips utilize TSMC's 5-nanometer technology. Transitioning to 3-nanometer technology holds the promise of delivering substantial enhancements in both performance and energy efficiency. TSMC has disclosed its plans to commence volume production of 3-nanometer chip designs in the fourth quarter of this year, which could potentially align with Apple's chip development timeline.
In essence, while official details on the Apple M3 chip remain elusive, the industry is abuzz with anticipation and conjecture, fueled by the potential adoption of TSMC's advanced 3nm manufacturing process.
How will the Apple M3 chip compare to M1 and M2?
TSMC claims that its N3 technology will offer up to a 15% speed improvement at the same power and up to 30% power reduction at the same speed as compared with N5.
Apple is said to be working on three M3 chips using the 3nm process, codenamed Ibiza, Lobos, and Palma. According to The Information, they'll boast up to four dies (small blocks of silicon that contain an integrated circuit), which would support up to 40 compute cores. The original ‌M1‌ and the M2 have 8-core CPUs, and the ‌M1 Pro‌ and Max have 10-core CPUs. If the rumor is true, 40 cores would mean a quite notable boost in performance.
"Ibiza" is rumored to be the entry-level version for the Macbook Air, while the four-die versions would be "Lobos" and "Palma" – the M3 equivalents of the current Pro and Max M1 chips.
FAQs
Is Apple working on a M3 chip?
Yes, Apple is reportedly working on a new M3 chip as a successor to their current M1 chip.
Is the M3 chip worth it?
Apple is expected to release the first M3 Macs in October, but will likely focus on machines that use the standard M3 chip, such as the 13-inch MacBook Pro and the MacBook Air models. 14 and 16-inch MacBook Pro models that include the M3 Max chip are expected to come out in 2024.
What is the latest news on the Apple M3 chip?
Gurman reaffirmed that the first Macs with the M3 chip should debut in October, while Macs with the M3 Pro and M3 Max chips will not arrive until 2024. Macs with the M3 Ultra chip, such as the next-generation Mac Studio, may not arrive until the end of 2024 at the earliest.
When can we expect official details about the Apple M3 chip from Apple?
Apple typically announces its new products and chip developments at events like WWDC or special product launch events. To get official details on the Apple M3 chip, it's best to stay tuned to Apple's announcements and press releases.
How can I stay updated on the latest news about the Apple M3 chip?
To stay updated on the latest news about the Apple M3 chip, you can follow the official Apple news channels, such as their website, Apple Newsroom, and social media accounts. Additionally, you can subscribe to technology news websites, blogs, and forums that regularly cover Apple-related news and announcements. Some popular technology news sources that frequently cover Apple news include MacRumors, 9to5Mac, and Apple Insider. By regularly checking these sources, you can stay informed about the latest developments regarding the Apple M3 chip.
Will the Apple M3 chip be backward compatible with older Macs?
Compatibility details are unknown, but it's common for Apple to design its chips to work specifically with certain generations of hardware. Whether older Macs will support the M3 chip remains to be seen.
How might the Apple M3 chip impact Apple's product lineup?
If the Apple M3 chip lives up to the rumors, it could lead to significant improvements in the performance and capabilities of Apple's Mac computers, potentially reinvigorating interest in the product line.
Is the Apple M3 chip officially announced by Apple?
No, as of now, Apple has not officially announced the Apple M3 chip. Information about the chip is based on unofficial sources, leaks, and rumors.
Final words
The Apple M3 chip is an intriguing and highly anticipated development in Apple's custom silicon lineup, although it has not been officially announced by the company. This chip is expected to leverage TSMC's advanced 3-nanometer manufacturing process, potentially offering significant performance and energy efficiency improvements over its predecessors.
While specific details about the Apple M3 chip remain speculative, the tech community is eagerly awaiting official announcements from Apple regarding its release date, supported devices, and performance specifications. The chip's potential impact on Apple's product lineup, particularly in terms of Mac computers, has generated considerable interest.
As enthusiasts and industry experts eagerly anticipate further details, it's essential to stay informed through official Apple channels and reputable tech news sources to get the latest updates on the Apple M3 chip. This promising development has the potential to shape the future of Apple's computing devices and inspire new possibilities in the world of technology.