Are you looking for a reliable and trusted proxy solutions provider? Here's Oxylabs review to help you with premium proxy solutions by protecting your data.
With many proxies in the market, you need to focus on some metrics while choosing the best one.
So how to get a proxy solution that meets your end needs?
This is why we have Oxylabs review to help you meet your requirements of extensive data extraction and proxies.
Bottom Line Upfront: About Oxylabs?
TL;DR
Oxylabs is a market leader in web scraping and proxies integrated with innovation. They help clients of all sizes gather large-scale public data in any niche.
The company was founded in 2015 and later in 2017 introduced a real-time crawler. This could be used for data extraction for search engines and eCommerce sites.
In 2019, Oxylabs announced Oxycon as its first web data harvesting conference in Vilnius.
One of the innovative products launched by Oxylabs is its Next-gen residential proxies. These proxies utilize AI and ML-powered solutions.
Over 102M + ethically sourced proxies serve around 1000+ clients worldwide.
Companies like Trivago, Pi Datametrics, and Web Robots have chosen Oxylabs for their resilient and reliable proxy solutions.
Oxylabs Proxies: Feature and Pricing
Datacenter Proxies
Get superior performance with Oxylabs 2M + datacenter proxies. These are classified as shared and dedicated.
You can access datacenter proxies in 188 countries with no limitations. You get anonymity, affordability, and superior performance.
Advance proxy rotation enables you to access geo-restricted content and provides 99.9% uptime guaranteed.
There is no limit on bandwidth, concurrent sessions, and targets. You can add the session ID parameter for a sticky session for the same IP address.
You can track your datacenter proxy usage, create and manage sub-users, and manage everything from one dashboard.
By contacting the Oxylabs support team, you get a free trial of datacenter proxies.
Shared Datacenter Proxies Pricing:
You can choose to bill monthly or save 10% on annual billing.
The Starter plan costs you $100/month and goes up to the Enterprise plan at $1000/month.
All the shared datacenter proxies plans include unlimited concurrent sessions with a dashboard to track usage statistics.
Dedicated Datacenter Proxies Pricing:
Unlike shared datacenter proxies, dedicated datacenter proxies have four plans.
The Starter plan costs you $180/month with unlimited bandwidth & concurrent sessions. All domains are allowed with 24/7 support and dashboard access.
Other plans like Business, Corporate, and Enterprise offer Dedicated account managers.
You get access to proxy know-how sharing, session control, advice on target scraping, and live support at no extra cost.
Residential Proxies
Oxylabs residential proxies are ethical and stable. These proxies are reliable and come from a legitimate source.
You can easily integrate residential proxies with third-party software and manage them via public API.
Inside the Oxylabs dashboard, you can control your data usage, create and manage sub-users, and whitelist IPs.
All the residential proxies are insured with Lloyds Technology Errors & Omissions (Technology E&O) and Cyber insurance.
The free proxy manager tool allows you to switch between multiple proxies via a single click.
Sometimes some content is unavailable in specific countries or displayed differently. Residential proxies help access the data all over the world. eCommerce companies and travel aggregators looking for dynamic pricing can benefit most.
Clients get 24/7 live support whenever they need it.
Residential Proxies Pricing:
You can start the starter plan at $300/month with 20GB traffic, unlimited concurrent sessions, city-level targeting, 24/7 support, and dashboard access. The starter plan does not offer a dedicated account manager.
As you move further, the pricing goes on increasing. But you get more traffic up to 1TB +, a dedicated account manager, and the rest of the features are the same.
Also included in the plans at no extra cost are sticky sessions, flexible IP rotation, 10 whitelisted IPs, and more.
How does Oxylabs Work?
Let me show you how Oxylabs works. To purchase, and manage Oxylabs proxies, you need to create an Oxylabs account. You can quickly start with the free trial and then purchase a plan.
Step 1: Click on the Signup button on the homepage of the Oxylabs website. The first step is to enter your email address and password.
Click on Continue to go to step 2.
Step 2: This step requires you to enter your personal information such as name, company name (optional), and phone number. If you are not applying on behalf of the company, then leave it blank. To go to step 3, click on Continue.
Step 3: Now describe your case, and complete the registration by clicking on Finish Registration.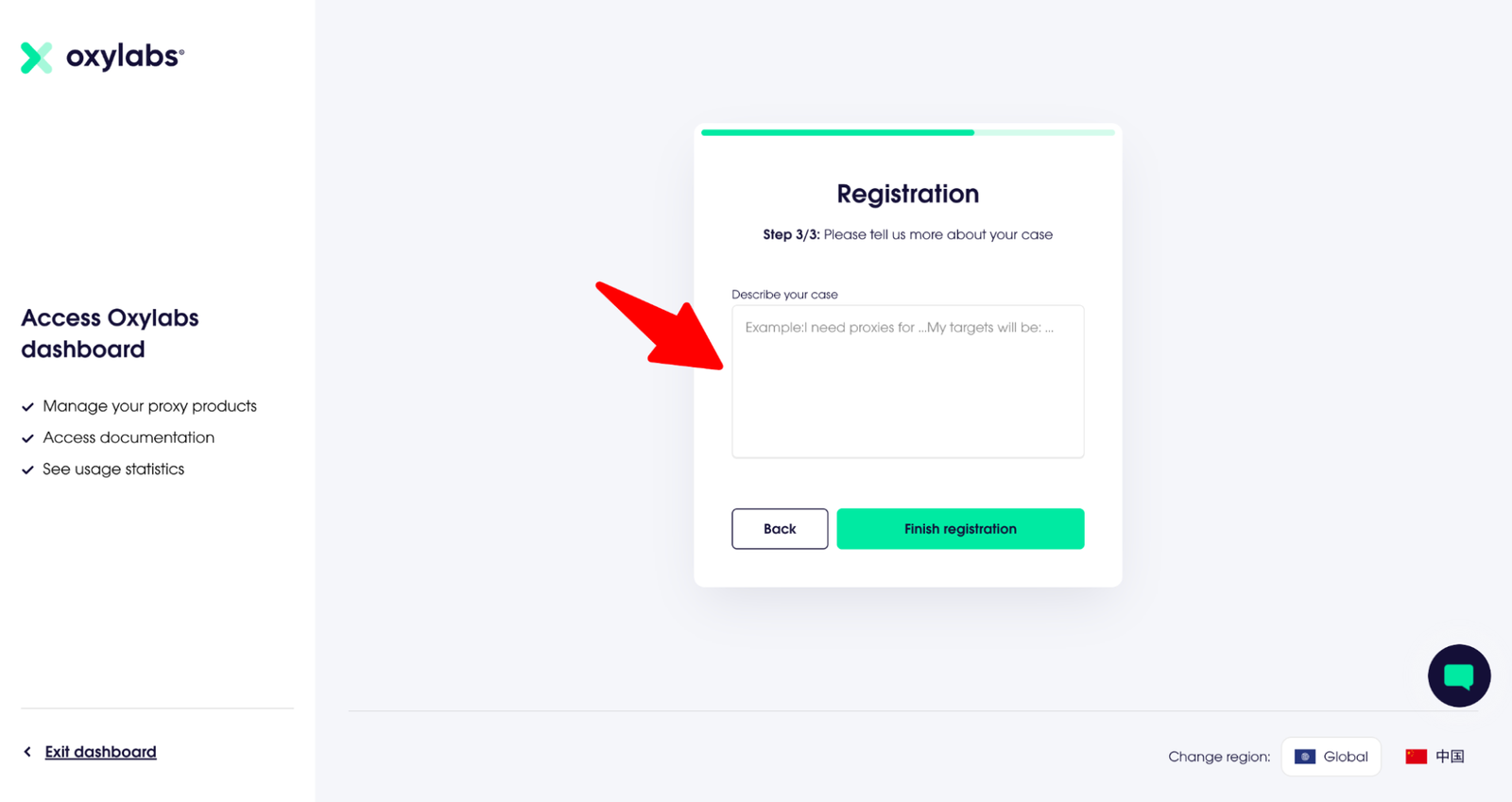 Step 4: A verification email will be sent to the email address that you had registered while creating your account. To complete the verification process, simply click on the verification link, and your account will get verified.
Step 5: Once you click on the activation link, you will get redirected to your Oxylabs dashboard. You will get logged into your dashboard automatically and now you can start choosing the plans.
Step 6: Click on Choose product, or simply close the popup. You can now find different proxy plans. Let us see how to choose residential proxies.
Step 7: Under residential proxies, click on Select Plan. If you choose the Starter plan or the Business plan, you can checkout fast. But, if you choose a Corporate or Enterprise plan, you need to contact the sales team.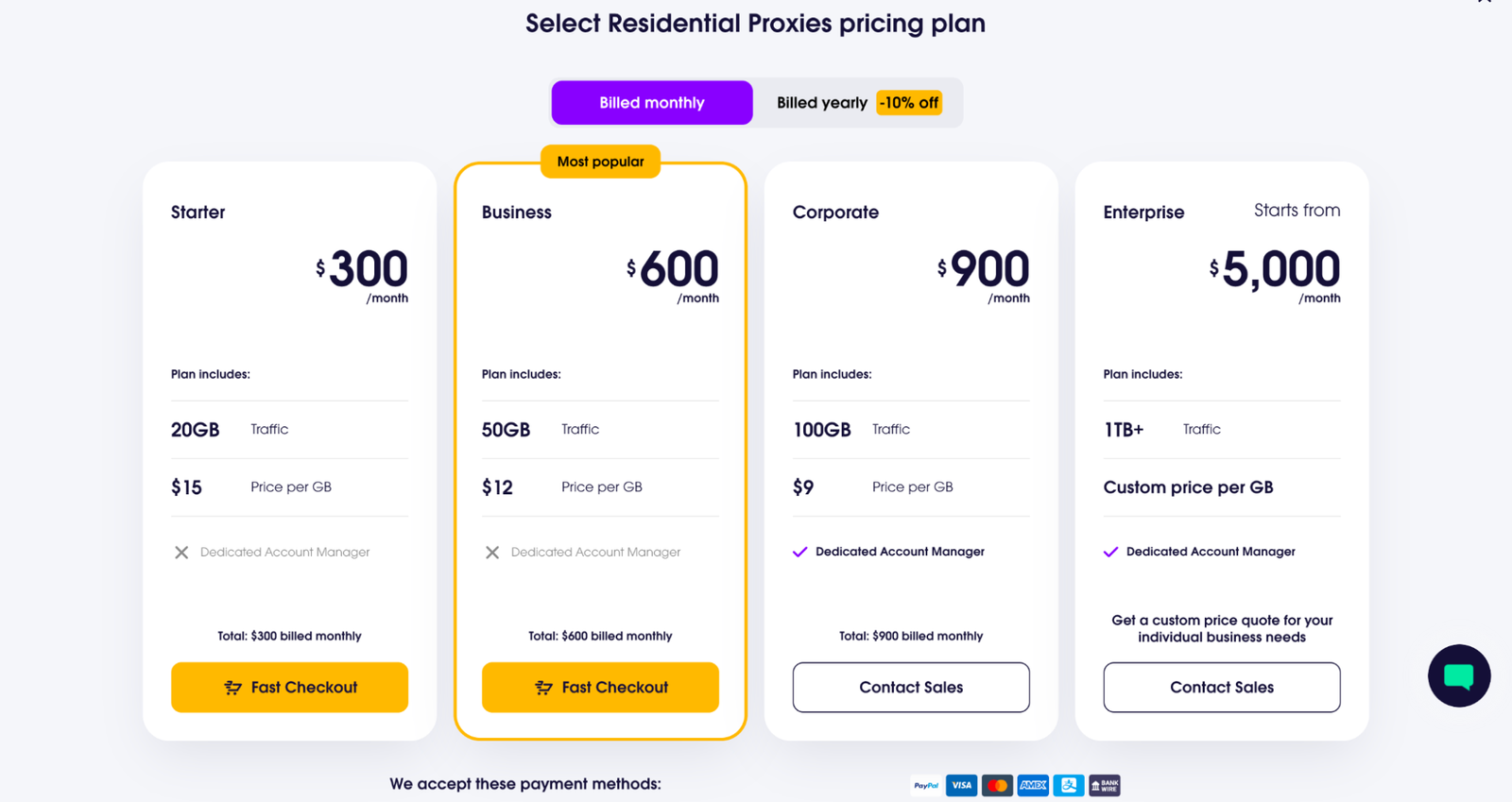 Step 8: Choose any plan and click on the Fast Checkout button. Now, click on Agree and Proceed to accept the terms and conditions.
Step 9: Now comes the final step wherein you need to choose a payment method. The checkout page is where you can check the total billing amount. Enter your name, address, and email. You can choose either PayPal or a Credit card for proxy payment.
Step 10: Once you have chosen the payment option, click on Next and complete the payment. Check your email for the payment confirmation. You can now start using proxies for accessing restricted content or protecting your device and identity.
Oxylabs Review: Pros and Cons
Pros
A large pool of unique residential and datacenter IPs.
ML and AI-based next-gen residential proxies.
Dedicated account managers in the higher plans.
24/7 live support to answer all your questions.
All proxies are ethically sourced from vetted suppliers.
A self-serve dashboard allows you to create and manage sub-users and proxies.
Cons
Costing seems to be a bit more than other proxy providers, but worth your money.
Oxylabs Alternatives
Bright Data is the #1 web data platform with the highest quality and fast output proxies. You can scale and customize as you like anytime you like.
All the proxies are fully compliant with the minimum use of resources. New features are developed every day with round-the-clock support.
Its real-time performance dashboard provides complete transparency so you can track the resource usage live.
Their dedicated account managers are always there to assist you and meet your data collection goals.
With Bright Data residential proxies, you can target any city, country, carrier & ASN. All the proxies offer 99.9% uptime with high reliability and stability. The proxies are used by Fortune 500 companies and have been awarded Proxyway for the best proxy ecosystem.
Conclusion
With so many Oxylabs alternatives, we can conclude that nothing beats Oxylabs. In the Oxylabs review, you must have learned how to start the free trial and purchase residential proxies.
There is nothing to wait for and think for. Just go for it!