In the modern era of productivity and multitasking, having a dual monitor setup has become increasingly popular among professionals, gamers, and content creators. But to truly maximize the benefits of dual monitors, you need the right equipment.
This is where dual monitor stands come into play. These ergonomic and space-saving solutions not only enhance your viewing experience but also contribute to a more organized and efficient workspace.
In this article, we'll delve into the world of dual monitor stands and explore some of the best options available on the market.
Who can use Dual Monitor Stands?
For those looking for a straightforward stand that's simple to use, modify, and personalize the VIVO Dual Monitor Free-Standing Desk Stand is fantastic. It has a sturdy base that can support a variety of monitors.
The HUANUO Two Monitor Stand is a great option if you want a mounted dual monitor stand that is highly stable. It may be mounted in two different ways and is simple to modify so that it fits your desk.
One design that offers excellent ergonomics, comfort, and even cutting-edge cable management is the EleTab Dual Arm Monitor Stand. You may move monitors effortlessly and safely with the help of the spring-assisted system.
Top Picks for the Dual Monitor Stands in 2023
VIVO Dual Monitor Free-Standing Desk Stand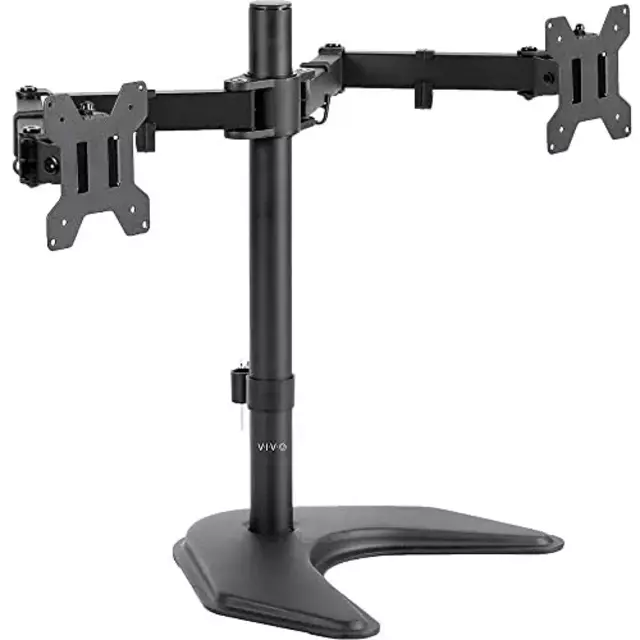 This is the best option if you want a stand that isn't clamped or otherwise fastened to your desk. With its sturdy base and padding, this twin monitor stand will keep your monitors safe. It can support screens that are up to 22 pounds in weight and 13 to 27 inches long.
This stand's adaptability is possibly its best feature. The stand can tilt, swivel, and even rotate 360 degrees in addition to being adjustable. It can also extend the reach and vary the display's height. You can always find the appropriate angle thanks to this.
Pros
Sturdy and heavy base
Fully adjustable
Can hold a variety of different monitor sizes
Cons
Any vertical adjustment will affect both monitors
HUANUO Dual Monitor Stand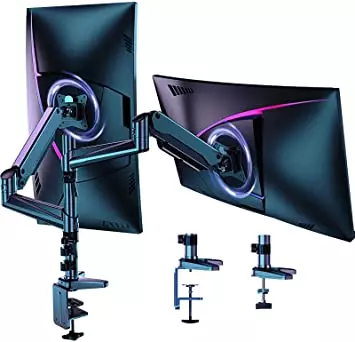 Consider this stand if stability is a big concern for you. There are 2 methods to mount it. For example, you could clamp it or use a grommet. Once it is connected, you may mount a variety of monitors securely on an extraordinarily robust stand. The stand is really secure, so you won't ever have to worry about it moving or changing.
Additionally, installation is really simple. After installation, you can independently adjust each monitor to find the ideal position. This entails selecting the appropriate height, tilt, and even the computer's capacity to swivel or spin for simpler work sharing.
Pros
Incredibly secure and stable
Quick and simple installation
Each monitor can be individually adjusted
Cons
There have been some reports of the arm sagging while using heavier, larger displays
EleTab Dual Arm Monitor Stand
With this dual monitor stand, you can ensure that your workstation is as comfy and ergonomically sound as possible. The stand can assist in positioning your display in the most ergonomic way possible using counterbalance technology. Additionally, the additional cable management system helps keep your desk and workspace clutter-free.
The displays can be quickly and safely moved into different positions. This is made simpler by the spring-assisted technology that is utilized to raise or lower the monitors smoothly and steadily. Additionally, you may mount your monitor on the stand in either portrait or landscape orientation.
Pros
Spring-assisted system
Designed with comfort and ergonomics in mind
Built-in cable management
Cons
Some people aren't a fan of the silver color
FAQs
What are the different reasons why people use dual monitor stands?

Here are some of the main reasons why people used dual monitor setup, Increase productivity, improved workflow, improved multitasking, better ergonomics, more immersive experience, cleaner desk, and many more reasons.
What are the different factors to consider when choosing a dual monitor stand?

Here are some of the main factors, the size of your monitor, the weight of your monitor, the adjustability stands and the last feature of the stands.
Why mostly PC gamers or streamers used dual monitors?
Dual monitor setup increase visibility of gamers, improved multitasking, in one monitor they play games and in another monitor they interact their audience very easily.
What are the different types of people who use dual monitor stands?
Here are some of the most common, office workers, gamers, graphic designers, students.
Do dual monitor stands work for every monitor?
Generally yes, most monitors can be mounted on a monitor arm. Monitors come with the standard VESA hole pattern of 75 x 75 mm or 100 x 100 mm on the back of the monitor for attaching to a monitor arm.
What are the benefits of using a dual monitor stand?
Using a dual monitor stand can lead to better posture, reduced strain on your neck and eyes, increased productivity through multitasking, and a cleaner, clutter-free desk.
What is VESA compatibility?
VESA (Video Electronics Standards Association) compatibility refers to the standardized mounting hole pattern on the back of monitors. Dual monitor stands often mention VESA compatibility, indicating whether the stand can support your monitors based on their VESA hole pattern.
Can dual monitor stands hold different-sized monitors?
Many dual monitor stands are designed to hold monitors of various sizes, but it's crucial to check the stand's specifications for the recommended size and weight limits to ensure stability and proper support.
Can I rotate one monitor to portrait mode with a dual monitor stand?
Yes, many dual monitor stands offer the flexibility to rotate one or both monitors to portrait mode. This feature is particularly useful for tasks that require reading or editing long documents.
Can I use a dual monitor stand with non-computer devices like tablets?
While dual monitor stands are primarily designed for computer monitors, some models might offer adaptability to hold tablets or other devices. Check the stand's specifications or contact the manufacturer for compatibility information.
Final Words
The finest dual-monitor stands are a highly cost-effective and practical improvement for anyone utilizing two monitors because they come in such a broad variety of costs and mounting choices. There are dynamic stands for every sort of home setup, whether you're sporting one display in landscape mode and one in portrait mode, matching an ultrawide monitor with a regular one, or attaching to a desk or a wall.
You will find it simple to set up and manage a multi-monitor setup thanks to our dual monitor stand guide. These can significantly increase how productive you are when working, streaming, or doing anything else you would need to do. It's difficult to top the options mentioned above if you're seeking a reliable approach to secure your monitors.