Native advertising is a type of online advertising designed to blend seamlessly with site content, so it looks like an organic part of the page rather than a traditional ad.
To run native ads on your site, you need to join various Native ad networks. Choosing one native advertising platform is not an easy task for a novice.
In this post, I am presenting a list of the best native ad networks that I found to be trustworthy.
List of the Best Native Ad Networks
AdStyle's intuitive interface makes it easy to design attractive ads that capture your audience's attention without being intrusive. 
It also offers powerful tools for discovering content. You can use the platform to find high-quality content related to your brand or product.
What's more?
AdStyle's proprietary algorithms make it easy to find trending topics to stay ahead of the curve when creating engaging content for your audience. 
Finally, AdStyle provides detailed analytics for every ad campaign to see what's working and isn't.
With real-time reporting, you can see exactly how well each campaign performs in views, clicks, and conversions so that you can take action quickly if something isn't working as expected.
Adsterra is a world-famous, well-respected brand well-known among bloggers and affiliates. Their objective is to assist advertisers in fulfilling their KPIs and increasing ROI while maximizing eCPM for publishers through innovative traffic solutions that are simple to implement.
This network provides many ad forms, including video, native, and push, and a customized social bar that may mimic any behavior, including conversational flow.
The leading verticals for Adsterra include VPNs, Utilities, Subscriptions, Sweepstakes, Dating, and Gambling.
Advertisers working with Adsterra may pick from various workflow-optimizing options, such as a simple self-service platform with automatic onboarding and live-chat assistance or working with a personal manager.
They take safeguards against fraudulent traffic and fraud extremely seriously. To identify, prevent, and combat fraud, each website, and campaign undergoes a comprehensive audit using Adsterra's security tools, dependable third-party solutions, and human inspection.
LiveIntent is a people-based SSP that operates primarily in email communication. Most of the network's 2000+ publishers and marketers utilize LiveIntent to monetize their native and display inventory through email newsletters. Liveintent asserts that its whole catalog is 100% responsive and predictable since email is a logged-in environment.
LiveIntent often identifies itself as a supplier of people-based marketing, offering solutions that enable marketers to be present wherever people are paying attention, regardless of what they are doing. Email is considered one of the most engaged marketing platforms, with some arguing that it is far more engaging than social media.
Understanding Liveintent's history reveals that the SSP exclusively collaborates with publishers that fulfill stringent content quality criteria. This often results in high success rates regardless of the vertical.
Sharethrough's objective is to preserve an open Internet by delivering technology for engaging, non-intrusive advertisements. Sharethrough, one of the larger participants in the native advertising sector, has the necessary inventory and resources to execute its promise.
It gives you the tools to create the most excellent advertisements imaginable. With tools like the headline analyzer and native ad generator, you can create engaging content with minimum effort and creativity.
The SmartSuite collection of capabilities will then manage your bidding strategy. Once you have ensured that your advertisements will show in the appropriate location and at the appropriate price, the TrueTemplate technology will ensure that their appearance matches the context. Add a few ad upgrades that highlight the most significant aspects of your advertisements, and you have a one-of-a-kind ad experience.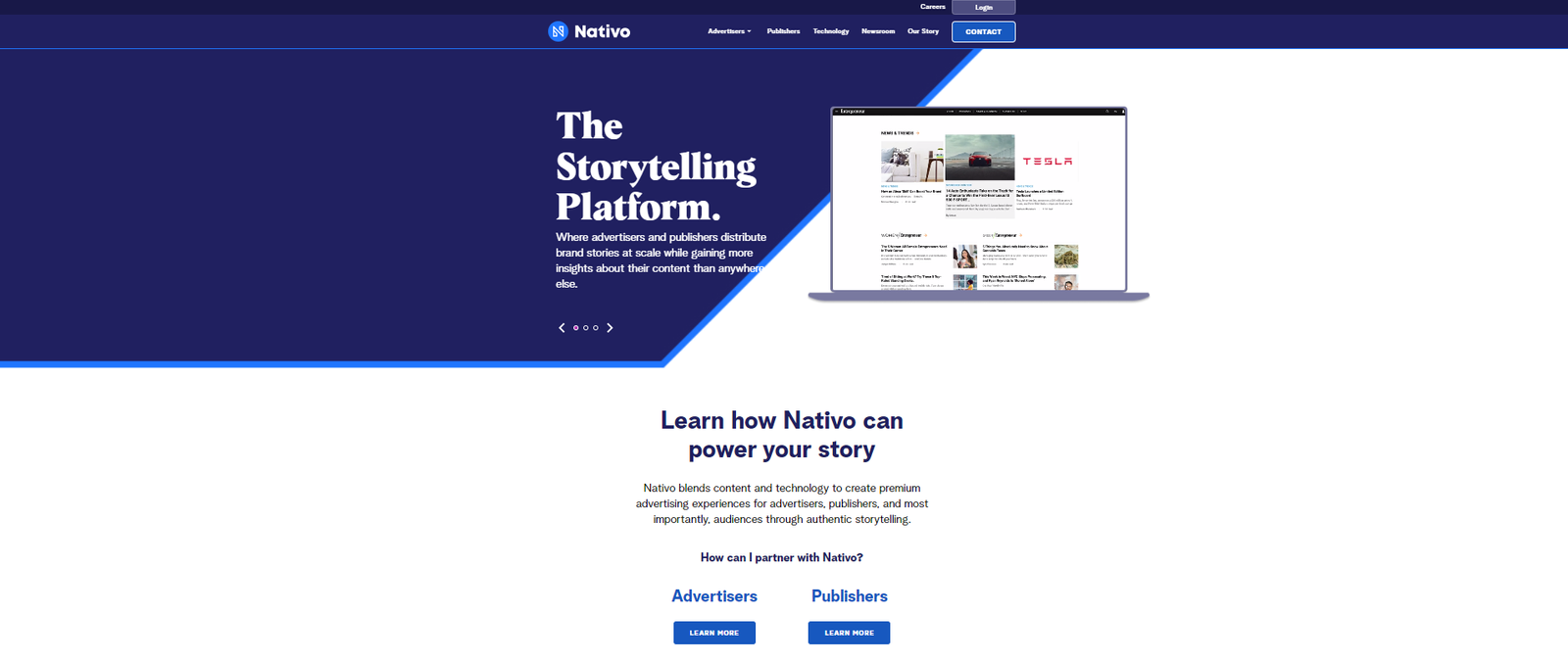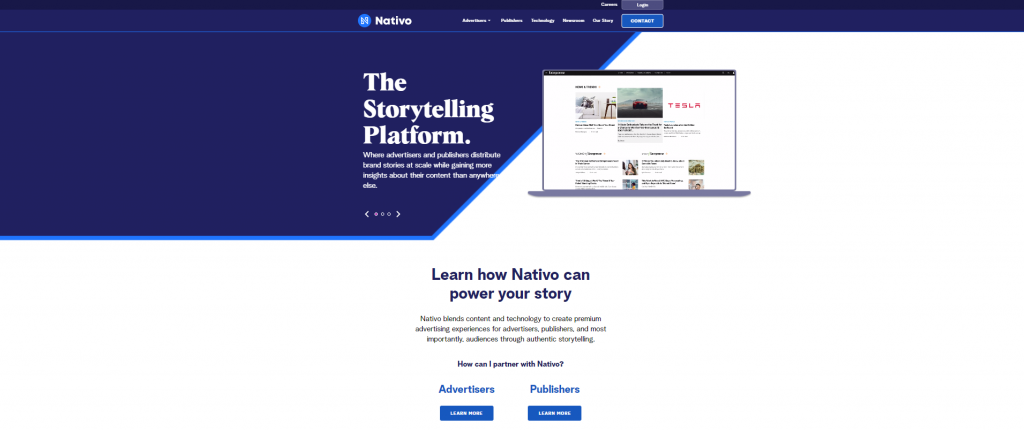 The mission of Nativo is to redefine native advertising using technology that enables the distribution of your content into the feeds of premium publishers for the most engaging experience possible. It does this by utilizing its distinctive, dynamic, and immersive ad forms, which stand out and feel natural while browsing the publisher's content.
One of Nativo's primary selling points is its cookie-free ad delivery technology, which safeguards your campaigns for a more privacy-conscious age. Nativo promises that over 75% of its advertisements do not rely on cookie technology.
Nativo excels in more areas than ad delivery. It also offers you an intelligent insights mechanism known as Native IQ, which provides a more in-depth look at your campaign's success and analyzes your content and that of your competitors using conventional engagement measures.
The Gemini platform is owned and operated by Yahoo. It is supported by ESPN, ABC News, Apple News, and MSN. The publisher-built SSP is made by the publishers for publishers and is fully secured & trusted.
Yahoo Gemini offers a variety of non-intrusive ad types that merge your advertisements with their environment for the most seamless advertising experience.
This German-based, travel-focused advertising network gives you access to its most unique and effective spots. AdUp's technology guarantees that your content will always be presented appropriately, regardless of the context.
Your adverts will always seem appropriate and relevant. Add geo-targeting and dynamic names to the mix, and you have a content discovery platform that delivers on both the technical and supply sides.
AdUp offers bot-detection solutions to safeguard your advertising money and brand. It uses statistical approaches to identify traffic that may be fake. AdUp utilizes keyword targeting to match your advertisements to the context of a website or the user's search query.
AdUp's optimization technology, which may function at semi-auto or full-auto levels, contributes to this. The semi-automated (aided) optimization safeguards against overpaying, while the fully automatic optimization handles CPC bidding on your behalf. It modifies your bidding approach to achieve the specified CPO.
The innovative native, video, and display ad platforms were inspired by the notion that advertisements are not presented to the appropriate individuals. The outcome was TripleLift, a unique ad network focused on technologically reimagining promotions.
The critical values of direct partnerships with publishers, variety across all advertising channels, and eye-catching and informative ad design were and continue to be TripleLift's driving force.
TripleLift is a terrific way to make your brand visible, appealing, and engaging. It is the proud recipient of several industry awards.
Regardless of the resources at your disposal, TripleLift's sophisticated features can make your creatives seem distinctive and contextually appropriate.
Computervision is a patented technology that identifies the most significant portions of your creatives and crops the picture so that it seems in the right place.
Adyoulike is the leader in native advertising technology in Europe, offering more than 50 billion native ad impressions every month. This solution allows brand marketers to grow their native advertising campaigns across premium and specialty publications.
Adyoulike, which debuted in 2011, is the most comprehensive supply-side native advertising technology on the market, enabling scalable programmatic native advertising. When you visit their website, you first notice the phrase "Native, Reinvented."
And this is what Adyoulike is all about: scalability via seamless and engaging storytelling on the open web, backed by artificial intelligence and semantic targeting.
Revcontent is the top platform for content marketing. The firm specializes in content discovery and leverages high-tech technologies and professional connections to assist marketers and publishers in connecting with a high-quality target audience and monetizing their experiences.
Revcontent collaborates with a variety of companies, media outlets, and affiliates. The platform markets itself as a supplier of premium traffic.
This rapidly expanding native advertising network rejects the overwhelming majority of publishers for failing to meet its quality requirements. This ensures that their ads get to the top publisher websites globally.
Since the first quarter of 2018, Revcontent's tier 1 publishers have witnessed a 117% growth in ECPM due to their proactive approach to supply and demand.
MGID is a worldwide innovator and award-winning pioneer in native advertising. The platform facilitates audience retention and monetization for publishers. It increases brand performance and recognition by connecting companies to the appropriate audiences at the right time with the right content. It is present on a global scale but has the highest proportion of traffic in Europe.
The firm, founded in 2008, has locations in the United States, Ukraine, Vietnam, Indonesia, Italy, and India. Native ad forms for MGID include intelligent, in-content, and sidebar widgets.
You, as an advertiser, may also take advantage of the native video format and develop highly compelling content, or you can concentrate only on intelligent widgets providing customized messages throughout the user's online trip.
Outbrain assists businesses, agencies, and marketers in connecting with one-third of global consumers who engage with open web content.
Using a vast network of five-star publishers, Outbrain's customers may display their advertisements to high-quality consumers by partnering with several specialty leaders and top publishers.
Take Sky News as an example; the website has over 10 million monthly page visits. Outbrain's native widgets consist of "in-feed" advertisements, search & sponsored listings, video advertisements, and content suggestions.
They comprise a picture, a headline, and a brand logo and integrate seamlessly into the journalistic flow.
Taboola has become a buzzword when it comes to native advertising. The platform helps brands reach audiences at the right time.
More than 9000 brands use Taboola to drive revenue. This creates a big opportunity for publishers to display native ads on their site.
The Taboola Feed is a game-changer as it brings consumers news feed experience onto your site.
FAQs
What is Native Advertising?
Native ad networks provide native advertising ad formats to display ads that match the feel and look of the site. 
Is Native ads better than Display ads?
Native ads perform better than display ads. These are not similar to display ads as they don't appear like ads. User's don't get distracted by the ads and therefore it increases the CTR.
How to make money with Native advertising?
In this post, I have curated a list of top native ad networks. You can choose AdStyle if you are a newbie and have no experience with native ads. Once you sign up and get approved, you can monetize your blog or site with AdStyle native ads.
Conclusion
Choosing an ad network is a big decision and one that shouldn't be taken lightly. After careful consideration, I believe that AdStyle Native Ads is one of the best options available in terms of quality and value for money.
Their proven platform, targeted audience engagement, and creative possibilities make them an excellent choice for any business looking to maximize its return on investment from digital advertising campaigns.
Native advertising can be a great way to increase visibility for your business if done correctly! With so many native ad networks available, it can be hard to know which ones are right for your needs. Hopefully, this guide has given you some of the best native ad networks.